Fani-Kayode Under Fire Over Affairs With Bianca Ojukwu, 2 Other Igbo Ladies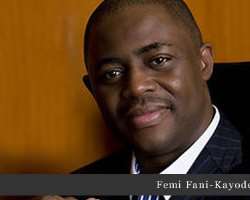 Former Aviation Minister, Chief Femi Fani-Kayode, has come under heavy fire after he  went public with his romantic affairs with Nigeria's incumbent Ambassador to Spain, Bianca Onoh Odumegwu-Ojukwu, and two other Igbo ladies.
On his Facebook page, Fani-Kayode revealed what he tagged 'intimate 'relationship with  the then Miss Bianca Onoh, Miss Chioma Anasoh and Miss Adaobi Uchegbu, citing them as part of the evidence that he is not an Igbo hater.
He said  'I was not a tribalist when I had a long-standing and intimate relationship with Miss Bianca Onoh, an Igbo lady, who later married Colonel Emeka Odumegwu-Ojukwu the leader of Biafra and who is now our Ambassador in Spain. I was not a tribalist when I had a long-standing and intimate relationship with Miss Chioma Anasoh, another Igbo lady, who I almost married. I was not a tribalist when I had a long-standing and intimate relationship with Miss Adaobi Uchegbu, another Igbo lady, who was exceptionally close to me and who is now a leading figure at the National Headquarters of the ruling PDP.'
However, rather than win him the argument, the kiss and tell has futher compounded Fani-Kayode's image problems as several commentators condemned him for  going  public with what he did behind closed doors with ladies. Below are a sample of responses:
Emeka Ugwuonye: The reality about Fani-Kayode seems to be far worse than I could have argued - that he may not be well. Otherwise, it is almost unheard of that a man would publicly proclaim that he had intimate relationships with women who later got married to other men, and goes forward to identify such women. Only a sick man would do that in such a fashion.
Fani-Kayode's intentions and motives are clear: He intended to actually mock the Igbo people by suggesting to them that he once had a long-standing affair with the widow of their hero. And his emphatic reference to Ojukwu with his pre-1967 military rank of Colonel, which would have been totally unnecessary, is equally remarkable. If anyone really had to insult the Igbos, it would appear that one good way to do it is to make this kind claim and statement. For that motive factor alone, an intelligent mind must treat Fani-Kayode's claims with considerable doubt.
Any man with such combination of megalomaniacal tendencies and instability and silliness of the mind would be tempted to link himself amorously to an icon such as Bianca. Laughingly enough, I could imagine that Femi Fani-Kayode similarly had a 'long-standing relationship' with Jacqueline Kennedy before she married JFK. Consistent with his hatred for the Igbos, simply set out to insult them indirectly by insulting Ojukwu and his family.
Izuchukwu Nkwazema Befriending Igbo Ladies can not undo the damage you have done to your self Femi.. I think this man needs to be properly examined. he is sick. He needs both medical and spiritual deliverance.. I pity him. Why reel out names to gain unnecessary attention. So please ,,, nobody should talk about a sick man again..
Emmanuel Nnadozie Onwubiko: To reel out names of women a man has slept with is the greatest act of lunacy that ought to be handled with care and empathy…such a mental case must be seen for what it is and not offered any legitimacy by way of rejoinders…a decent and responsible man should not under any guise disclose the BEDROOM SECRECY because the moment this social contract is breached then the offender is presumed to have crossed the borderline of sanity.
Frisk Larr  I think you make a lot of sense. The fellow didn't need to draw a list of prominent Igbos he has dated to prove a non-tribalist attitude. Even the most renown racist and xenophobist in France – Jean Marie Le Pen – had a few black people in his party and he would often use them to demonstrate that he wasn't racist. But by all standards and principles, his policies were racist to the core. It is not Kayode's sex life that is on trial but his anti-Igbo ranting. When the very cautious Oby Ezekwesili comes out to take a stand against Kayode then something serious is fishing. Fani kayode should learn more about public appeal and the art of defensive oration.
Opeyemi Bamidele Amusa: So wht does that make him? An Adulterous/Childish
fool.
Sunday Unwana This remains a lesson to the lasies who open their legs for the big boys to ride. Am sure the guy has more stories to tell in this direction. We are waiting.
Magdaline Dupe Inam: This guy is an idiot, stupid is what stupid can be.
Madunagu Emeka: So sad that a distinguished institution like Cambridge University has a misfit and moron called Femi Fani-Kayode as an alumnus. Sad that this clown was a minister of the Federal Republic of Nigeria. Sad that there are people who endorse this clown's drug-induced outbursts. What a country!!! There really was a country!!!
Source News Express