Nigeria Chamber Of Shipping & PHCCIMA Partner On Shippers Training, Cabotage And Local Content Workshop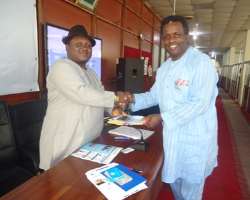 (Right) Engr. Emeka Unachukwu receiving a document from the GM Nigeria chamber of Shipping, Mr. Nnamdi Eronini
A proposed shipping training programme tagged, The New ABC of Shipping" and a Workshop Programme tagged, 'Understanding Cabotage and Local Content in the Nigerian Oil & Gas Industry' is set to spark up a very strategic and virile inter relationship between the Port Harcourt Chamber of Commerce and the Nigeria Chamber of Shipping (NCS).
This was made obvious when, Mr. Nnamdi C. Eronini, the General Manager, Nigeria chamber of Commerce led a delegation of his members to the Port Harcourt Chamber of Commerce to solicit for support and collaboration in organizing the two programmes.
He said NCS is opening its doors to a very strategic partnership with PHCCIMA to support its quest to organize, "The New ABC of Shipping" designed to give participants knowledge of the shipping/maritime industry and creating a career pattern for new entrants; and also a workshop programme tagged "'Understanding Cabotage and Local Content in the Nigerian Oil & Gas Industry', which objective is to impact on stakeholders the ability to have a thorough knowledge of the increasing technicalities involved in the upstream oil and gas sector and its associated support structure needed for one to successfully engage in any form of business in the sector. The NCS GM explained that the cabotage and local content programme is also designed to give an in-depth understanding of the Maritime/Oil and Gas upstream business in Nigeria while making effort to ensure that those in the sector take advantage of it.
"Port Harcourt is a strong resource base owing to its status as the hub of oil and gas and shipping in the country, there is need to bring in a strategic partner like PHCCIMA to help us drive and achieve our lofty objective for the industries and the programme, hence the visit here today" he averred.
In his remark the PHCCIMA President commended the delegation for the visit especially the prospect of a partnership to organize such an invaluable training and workshop programme. He observed that the NCS visit was only apt but also timely considering the rot presently in the sector. "There are a lot problems associated with the shipping business" he said, citing examples that three years after the cabotage law was enacted, the compliance rate is a paltry 10%. This he attributed to corruption and lackluster on the side of regulatory bodies charged with shipping and the cabotage law. The Unachukwu explained that the downturn has continued to have an adverse effect on the sector and the country, but however expressed confidence that the proposed training and workshop in Port Harcourt will change things for the better for stakeholders in the vessel business - especially for PHCCIMA members in the area of providing the needed leverage in exposing vistas of opportunities in the sector.
Once again, Unachukwu assured the delegation that the programme will get PHCCIMA's full attention but emphasized the need to make it free for PHCCIMA members in order to enable it get the desired and far reaching effect.