Police arraign developer who duped 106 of millions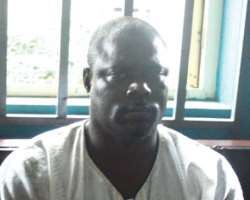 A 37-year-old developer, Ishola Salaudeen, was arraigned before an Meta Magistrate's Court on Wednesay for allegedly duping 106 people of millions of naira.
Salaudeen  was arraigned on 211 counts of receiving money under false pretences and stealing.
He was said to have collected sums ranging from N180,000 to N1m for a property from the complainants, many of whom paid into his bank account.
The incident was said to have occurred in April 2013 at Oriola Street in the Ketu area of Lagos.
It was said that Salaudeen had asked the expectant tenants to converge  on the said house on only discover that the rooms had been taken by some other people.
It took over an hour before the two registrars could finish reading the charge sheet which ran to about 70 pages.
The defendant pleaded not guilty to all the charges.
Salaudeen employed the services of three lawyers - Babatunde Adeyanju, F.S Oladele and Ola Ogunbiyi  for his defence.
The prosecutor, G.O Osuyi announced that there were 23 witnesses in court.
Adeyanju urged the court to grant the defendant's bail in liberal terms.
Osuyi however objected. He said, ''I want the court to take into cognisance the severity of the offence. Receiving money under false pretence attracts 15 years imprisonment, while stealing could take seven years on each count, and he is facing 211 counts. The alleged offence and the consequence are  enough to make the defendant jump bail.'
The magistrate, Ms S.O Solabo, in her ruling, observed that the defendant had not been declared guilty.
She granted Salaudeen bail in the sum of N2m with two sureties each in like sum
The matter was adjourned till September 9 for trial.