Re: Yet Another Wizkid Impostor Discovered In Owerri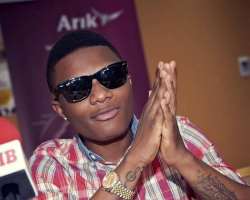 The unveilings following to what resulted to the above caption brings to my mind the story of a young mosquito who went out flying for the first time in its life. The father asked: "How does it feel?" The young mosquito replied: "It was great, because everyone was clapping for me". The father replied: "They weren't clapping for you, they wanted to kill you, the more they clapped, the more chances to die."
Call it an epistle but it has an effect on our everyday life and doings, especially to what the caption represents and in the lives of those involved. The first paragraph should be downloaded by the CEO Ibari Ogwa Village, Chukwudi Ofoha. A man who feels that after him it is God. A man who feels he owns the world. A man who thinks he can buy the world, by the way he has got some money to lavish.
When I came across the story which went viral online after a national newspaper published it that two longtime friends, Ofoha and his media consultant, Ugochukwu Favour-Mayor embarked into a business that at the end they got scammed by an impostor who claimed to be Wizkid, I got angry. What was my annoyance? Two people invested into a business and they got scammed by an impostor, at the end one of them arrested the other claiming he must pay back all that he spent on his own side. What then happens to the other man's loss?
I would want to quote little of that very publication so to put you readers on the line of the past happenings. "We gathered that the impostor who claimed to be Wizkid was contracted by one Mr. Ugochukwu Favour-Mayor on behalf of Chief Ofoha for a show at the hangout. The impostor is said to have charged the latter the sum of N1million. And in sealing the deal, an advance payment of N300,000 was allegedly paid into the impostor's UBA account.
"Shortly after the payment was made, the impostor switched off his cell phone, thereby raising the suspicion that he was not the real Wizkid. Based on this development, the CEO of Ibari Ogwa is said to have arrested and detained Mr. Mayor at the State CID in Owerri. Meanwhile, a source who confirmed the development during the week hinted that the impostor is still demanding for the balance of N700,000,00 from his victim."
Between Ugochukwu Favour-Mayor and CEO Ibari Ogwa Village, Chukwudi Ofoha, the plan was to invite Wizkid to Owerri at the popular hangout. A career book on Wizkid got reached by the impostor to be launched on the day of the show. Meanwhile he was to be paid for coming, while his invitees were to make back their money and effort from their ticket sells. It was a case of paying for the ticket and getting Wizkid's career book as a pass. Common, trust Ugochukwu for his business mindset which he had in the past brought into some individuals' business, and it has developed little business into greater brands.
For the two of Ugochukwu and Ofoha, they are known friends, and mostly Ugochukwu managed his media works. We've heard no story until this time when Wizkid was meant to perform at the hangout on October 1, 2013. As usual, Ugochukwu also established the contact which along the line, he advised that they should abstain contact having discovered foul play. It was this reason as being informed opened his eyes after he got the original contact from Skales, one of the artistes signed under Empire Mates Entertainment (EME).
He was forced to connect the original contact made available to him by Skales when he suspected foul play over the performance charge presented to them by the impostor. From the mail he sent to [email protected] that reads: "We've opened discussion with Wizkid already. We want it to be on record that the first book ever to be compiled by us was launched at Ibari Ogwa Village."
Without much time waste, the EME management replied him with a mail: "Please be advised that neither Wizkid nor any of the EME and Starboy teams have engaged in any conversation re: this event apart from this medium. Please be advised that whoever you may have spoken to, is not Wizkid or a representative in any way".
After going through all these from what Skales told him, he was charged to convince Ofoha into abstaining from the old established contact. He urged that they should reposition by following due process through the engagement of the main management, EME. But out of greed and shrewd lifestyle, the CEO of Ibari Ogwa Village, Chukwudi Ofoha insisted that he wouldn't want to spend much as he wants to cost-cut measures.
Seeing that he was very much convinced to further with the old established contact, Ugochukwu advised that if he must pay, that he should pay an amount that he can be able to cope with if tomorrow the impostor denies ever receiving such amount. Then they were to pay the sum of N500,000 as part payment until one week to the day of performance, but Ugochukwu advised that they should pay the sum of N150,000 so to complete it when they meet face-to-face in Lagos when the artiste would be doing a shout-out for them.
Then, it was at the face of this that the greed and shrewd lifestyle of this young man who claims to own the world displayed itself. He refused again to Ugochukwu's advice and said, "I don't want to fall my hand as I presented myself to the contact as a wealthy man. I want to pay him a reasonable amount of money." Actually for Ugochukwu, they dragged on this until the whole thing landed on him paying the sum of N300,000 instead of the former N500,000.
Realistically, an original account number that still functions till now was sent to Ugochukwu as the rep and point man to Ibari Ogwa, which had always been the role he plays for him and his firm until this very issue came up. The account detail reads: United Bank of Africa (UBA), 2062955870 and Ayodeji Balogun. After the amount was paid, next was for them to visit Lagos for the shout-out. These they did, and it was at Lagos that they discovered that they've been talking with an ordinary impostor who refused to present himself for the shout-out.
On their return from Lagos, they all reconvened at Ibari Ogwa Village so to brief the Chief Executive Officer, Mr. Chukwudi Ofoha on how their trip went. That's exactly where the longtime relationship Ugochukwu and Ofoha enjoyed went soured. How? Ugochukwu who returned from Lagos without visiting home saw himself being moved to a Police station that is at the backyard of the popular hangout. What was the report? That he obtained an amount of money through false pretense. Please I ask, since it was the loss of two who is actually meant to report the case to the police for due or proper investigation? How come the police after arresting a suspect as we were meant to understand did not investigate the matter but acted on a script written by their pay-master to regain the lost amount of money or keep manhandling the suspect until he dies? Oh cruelty! I pity the poor who has nobody to speak or act for them.
After they've succeeded in giving Ugochukwu a beating of his life, they went further into forcing him to sign an agreement. And this he did when he had discovered that they weren't bent on taking his innocent life. Trust Ofoha for such act. Who doesn't know him? Who doesn't know how he remotes the World bank police station into acting as accomplish to his demonic and destructive acts? Who doesn't know how he intimidate innocent citizens with the World bank police men? He has done it while intimidating his former workers who ended up not charging him for services rendered to him in the past.
Common, silence cannot be taking for golden again. This is one case that God wants to pay Chukwudi Ofoha in his own coin with. Maybe his advisers did not advise him that fighting Ugochukwu wrongly without pointing at his faults would result to his friends like us responding angrily. We can't fold our hands and watch the image of this very young man to be rubbished by a car park tout who maybe might have gone the other way round to make money for himself. Who knows? We know Ugochukwu as a product of hardwork, honesty and fairness. He is always meticulous in every of his doing, and if the Police Force or any of our security agencies are in doubt, let them investigate this very issue.
Inasmuch as we all know, we want this matter to be investigated by the Police so to put our facts and expectation on this very young man straight. Like Ugochukwu would be quoted: "If actually he (Ofoha) holds such fraud accusation against me, why didn't the police detain me and properly investigate the matter since they've arrested me as a first suspect?" Yes, has our Police Force failed us in the protection of lives and properties? I sincerely acknowledge Ugochukwu's courage when I heard that he wrote a petition to the Imo State Commissioner of Police for proper investigation. And that I think is right, because his image and name is at stake.
15
CEO IBARI OGWA
UGOCHUKWU FAVOUR-MAYOR
WIZKID
Disclaimer:

"The views/contents expressed in this article are the sole responsibility of the author(s) and do not necessarily reflect those of The Nigerian Voice. The Nigerian Voice will not be responsible or liable for any inaccurate or incorrect statements contained in this article."