I Have Not Endorsed Any Candidate—Obi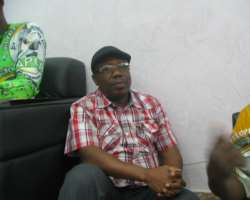 Governor Peter Obi has debunked the news making rounds that he has endorsed a particular candidate for the forthcoming Anambra gubernatorial election. He spoke through his Commissioner for Information and Culture, Barr. Joe-Martins Uzodike.

Speaking to the Press at Awka yesterday, the Commissioner described as mischievous associating endorsing a candidate with the Governor, who, over the years, has continued to preach against electing as a Governor, a person that is fettered in any way, including being sponsored by anything or body dangerously close to godfatherism. He said that the only thing Governor Obi had continued to do, in his usual spirit of fairness and equity is to insist that Anambra North should produce the next Governor and urge them to come out with best candidates for the job.

"Today, while a number of them have come out, with competitive advantages to rival the best of other zones. We have the Secretary to the State Government, Mr. Oseloka Obaze, an international Civil Servant; we have Dr. Chike Obidigbo, a renowned industrialist; we have Mr. Tony Nnaecheta, who was an ex MD of a Bank; we have Chief Willie Obiano, who was an Executive Director in a Bank, among others. With this array of people from the Zone, nobody can say the zone lacks quality people," the Commissioner said.

Commenting on Dr. Chris Ngige's justification for the deportation and dumping of 72 Nigerians in Anambra and Ngige's comment that Obi was playing God, the Commissioner said he would not join words with a Senator who, according to Senate reports, did not make any statement in the Senate or pass a bill, only to found his voice in support of obvious injustice against his people. "The man has remained dumb in the Senate. Today, he is prancing all over the place with logistics provided by the very people that perpetrated injustice against his people, to defend that injustice", the Commissioner submitted.

Concluding, the described as laughable, the antics of those who by their conduct obviously do not believe in God, saying that Obi was playing God simply because he said that since Anambra North, having not provided a Governor in 22 years Anambra State was created should be, in the spirit of equity and fair play be allowed to produce one. "Rather than play fairness somebody said the Governor was playing God, is it Okija Shrine that he should play", the Commissioner asked.

"All over the country, States are going for fairness and equity in distribution of political posts. Enugu, Edo, Ebonyi, Abia, among others are all saying that Governorship should move to a particular zone for the sake of equity. Even in Abia, they have what they call charter of Equity, where it is clearly spelt out.