Swiss store subjects Oprah Winfrey to racism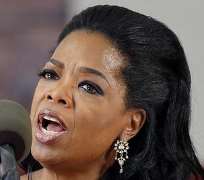 Oprah says she was the target of racism while shopping for a purse at a Swiss luxury store.
A Swiss luxury-goods store has denied any wrongdoing after Oprah Winfrey suggested she had encountered racism when one of its shop assistants allegedly refused to show her an expensive handbag.
The store's owner claimed the entire incident was based on a "misunderstanding" due to language difficulties and that the saleswoman had never sought to stop Winfrey, whom she failed to recognise, from buying the $36,000 crocodile bag.
Winfrey, one of the world's wealthiest women, said the assistant told her the bag was "too expensive" and refused to show it to her when she visited a Trois Pommes boutique in Zurich last month.
Declined: Oprah Winfrey. Photo: AP
Ranked the most powerful celebrity in the world with a personal fortune estimated by Forbes magazine at $US2.8 billion, Winfrey recounted the story while discussing racism on US television show Entertainment Tonight.
Describing how she had spotted the handbag – designed by Tom Ford – while visiting Zurich before her friend Tina Turner's wedding, she said: "I go into a store and I say to the woman, 'Excuse me, may I see the bag right above your head?' and she says to me, 'No. It's too expensive'."
Winfrey said she insisted twice but the shop assistant allegedly refused to take it off the shelf and suggested other, cheaper bags instead. "One more time, I tried. I said, 'But I really do just want to see that one', and the shopkeeper said, 'Oh, I don't want to hurt your feelings', and I said, 'OK, thank you so much. You're probably right, I can't afford it.' And I walked out of the store," Winfrey said.