NYESOM WIKE AND OTHER JONATHAN'S CONFLICT ENTREPRENEURS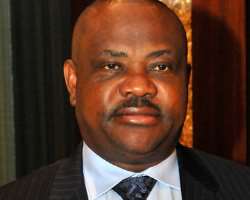 Professor Paul Collier of the Centre for the Study of African Economies at the University of Oxford is indeed an accomplished academic of global repute. However I have found myself sometimes disagreeing with some of his postulations. Nevertheless, there is one of his propositions that fascinates me a lot. That is the greed and grievance theory of explaining the causes of civil wars in Africa. In this theory, Collier contends that political rebellion is often motivated by greed and lust for power rather than grievance as often suggested by other scholars. He argues that the political rebels are not necessarily heroes struggling for any collective or worthwhile cause rather they are often fighting for their pockets.
He further reveals that many antagonists pretend that they are public spirited individuals fighting against some form of injustice, unfairness, marginalisation or exclusion but in the real sense they are simply people who feel that they will not do well without a conflict. They therefore generate one grievance or another conjured by massaging one form of prejudice, propaganda or blackmail. Such promoters and profiteers of conflict are often referred to as conflict entrepreneurs. The United States Institute for Peace(USIP) defines a conflict entrepreneur as an individual who profits from conditions that promote conflict to undermine efforts of good governance. Collier's narrative partly captures the situation in Nigeria today. Informed analysts argue that the comments and actions of people like, PDP Chairman, Bamanga Tukur, Akwa Ibom State Governor, Obong Godswill Akpabio, Special Adviser to the President on Political Matters, Ahmed Ali Gulak and Minister of State Ezebunwo Nyesom Wike conform with classical conflict entrepreneurs.
Of the five, no one fits the USIP's description more aptly than the Rivers State born Minister. Since the political faceoff between President Goodluck Jonathan and the Rivers State Governor erupted, the Minister has left no one in doubt that he has an interest in the escalation and continuity of the conflict. Indeed those who know better opine that beyond enormous economic benefits that might have accrued to the Minister since the crisis started, he is also said to be positioning himself to become a beneficiary perchance the Presidential 'troops' overrun Mr. Amaechi. Give it to him, the law graduate of Rivers State University and former Chief of Staff to Mr. Amaechi is a master in his game.
The publisher of AB Reports based in Port Harcourt described Mr. Wike as 'a tough and undiplomatic man with a thug minded determination and a deep pocket that thrives in a policy of vindictiveness'. Known as 'Eze gburugburu' by his admirers, the former Chairman of Obio Akpor council is known to be a brutal schemer who maximised his position as Chief of Staff in Brick House stockpile enormous financial resources for himself. The bulkily framed politician is also someone who understands the power of money and readily deploys it as a political tool to achieve helpful and most times unhelpful political ends. An indigene of Obio Akpor council once recounted how Wike almost lost his re-election bid as Chairman of the second richest LGA in Nigeria but for the intervention of the then Speaker Rt. Hon. Rotimi Amaechi and the benevolence of former Governor Peter Odili.
Another former loyalist described him as ' a merciless politician with a limitless capacity for mischief. As a Minister of Federal Republic, his performance have been rated below average in the media. Wike's comments and actions continue to rub off wrongly on the reputation of his boss, President Goodluck Jonathan on whose behalf, the Minister always claims to be acting. For instance, Mr. Wike had donated his salary for six months to an organisation owned by one of the ex-militants allegedly to gain his support for the conflict enterprise. At another instance hundreds of individuals allegedly loyal to Wike trooped out to the Port Harcourt airport to disrupt the solidarity visit by some Northern Governors to Rivers State Governor. Informed observers contend that such disruption might have painted a lasting negative impression on the visiting governors. Many suspect also that some Northern politicians may be preparing to take a revenge someday on President Jonathan about the embarrassment that Wike's supporters meted on them in Port Harcourt.
In a related instance, the Minister was quoted as saying that he will make Governor Amaechi uncomfortable. In his desperation to make it look that he is working for the President, Mr. Wike alluded to the fact that he is doing whatever he is doing to 'indicate to our people that we cannot allow our son who is the President to be harassed as some people are working to stop the President from completing his constitutionally allowed tenure'. And further boasted that he will make sure that 'the Rivers State Governor does not sleep with two eyes closed because there is danger'. True? How can a serving Minister make such a tactless and confrontational statement?
From such pronouncements, it is obvious that he wants to be seen as someone either acting a script for the President or actively supporting his interest. In a classic style of a conflict entrepreneur, Mr. Wike allegedly celebrated the invasion of thugs into the Rivers State House of Assembly and the aborted impeachment led by his protégé and loyalist of the Nigerian First Lady, Hon. Evans Bipi. Did President Jonathan sanction these desperate display of political brigandage? As the 2015 elections continues to beckon, the questions on the lips of many pundits is how these obviously rascally activities of to the so called President's loyalists are impacting on Jonathan's public rating.
Many Nigerians might have angrily reached the conclusion that these promoters of conflict are doing the bidding of the President and his wife and may be waiting for a payback time. However some events have continued to point to the contrary. Just as the crisis in the Nigerian Governors Forum(NGF), what is subtly evident is that a group of politicians including Wike and Akpabio have continued to position themselves as President's men before the public in order gain undue influence and advance conflicts in a manner that will allegedly bring them financial and political benefits. President Jonathan is now seen rightly or wrongly to be fighting many avoidable political battles, a majority of whom were artificially created by these men. The backlash is already giving the President himself an avoidable bad press and eroding his political goodwill by the day.
Many organisations and respected opinion leaders firmly believe that the political shenanigans of Mr. Nyesom Wike's and his co-travellers constitute an unhelpful baggage to the President and have called for the Minister's sack. Notable among them is Dr. Ayan Adeleke, the Coordinator of Academic Staff Union of Universities(ASUU) Ilorin zone who accused Mr. Wike of abandoning his duty post for politics. With the abysmal crisis in the education sector, Jonathan's government is looking very incompetent before the Nigerian people. Again, Wike and his likes continue to lead President Jonathan from one crisis to another because it is not in their economic interest that any issue is resolved amicably.
The President is probably left with two choices. Either he comes to terms with the political nemesis and liability brought to bear by these selfish merchants around him, boot them out, make peace with the 'real and imaginary' enemies that they have created for him, minimise further distractions and scale up his performance profile before 2015 comes knocking. Or he continues to allow these merchants of mischief to steer him from one blunder to another until nothing is left of his statesmanship.
Written By Uche Igwe


Disclaimer:

"The views expressed on this site are those of the contributors or columnists, and do not necessarily reflect TheNigerianVoice's position. TheNigerianVoice will not be responsible or liable for any inaccurate or incorrect statements in the contributions or columns here."
Articles by thewillnigeria.com