Kano 2015: Mohammed Abacha May Fly PDP Flag Al-Mustapha to lead campaign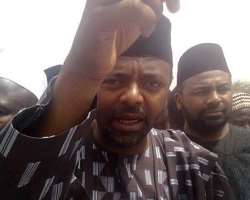 Indications are rife that Mohammed, eldest surviving son of late Head of State, General Sani Abacha, may defect to the ruling Peoples Democratic Party (PDP), and contest the 2015 governorship election in Kano state on the party's platform.
Chief Security Officer (CSO) to Mohammed's father,  Major Hamza Al-Mustapha, who was recently released after 14 years in prison, according to plans, is to lead Mohammed's campaign in Kano.
In 2011, Mohammed sought the Congress for Progressive Change (CPC) governorship ticket for Kano State, but lost in controversial circumstances.
Family sources told Pointblanknews.com that Mohammed is locked in talks with top leaders of PDP to streamline the terms of his defection.
It was gathered that Mohammed's proposed defection may be part of a larger political strategy by some Presidency officials to cut Governor Rabiu Musa Kwankwaso to size.
Kwankwaso and four other governors from the north have been vocal critics of President Goodluck Jonathan. They are particularly opposed to the president's yet-to-be declared ambition to seek re-election in 2015.
Kwankwaso recently boasting about how he "snookered" fellow governor Jonah Jang out of the chairmanship of the Nigeria Governors' Forum (NGF).
Aside boasting about the onslaught against Jang, who is believed to enjoy Jonathan's support, Kwankwaso has been leading other governors on visits to former Nigerian leaders, to protest
Jonathan's handling of the political situation in the country.
In the heat of the political crisis in Rivers State, Kwankwaso  and four other governors from the north paid a controversial solidarity visit to Governor Chibuike Amaechi.
The visit was marred by violence as thousands of protesters swarmed the Port Harcourt airport, forcing the governors to return with seeing Amaechi.
Kwankwaso's term in office as governor is expected to lapse in May 2015. According to the 1999 Constitution, he cannot seek re-election having been first sworn in as governor in 1999. Consequently, Kwankwaso  is reportedly shopping for a successor.
However, Pointblanknews.com gathered that certain top officials of government have opened talks with Mohammed on the possibility of his defecting to PDP to end Kwankwaso's political influence in Kano.
Mohammed's father, General Abacha, died in 1998, under controversial circumstances. He was buried in Kano. 15 years on, Abacha remains one of the most powerful and influential political leaders produced by the state.
General Abacha announced the coup that toppled General Muhammadu Buhari, in December 1983.
In 2011, Buhari emerged CPC presidential candidate. It is not clear if his emergence as CPC presidential candidate had anything to do with Mohammed's failure to fly the party's flag in Kano.
Mohammed's loss of the CPC ticket was believed to have greatly fractured the party, and hugely contributed to victory for PDP's Kwankwaso.
Al-Mustapha's recent discharge and acquittal of murder charges by a court of appeal, some believe, was politically motivated, much the same way as his imprisonment.
"Yes, some argue that Al-Mustapha's release was politically motivated. Was his imprisonment less politically motivated?" quizzed a prominent Kano politician.
"There are people who sought to put him away, forever. Why? It is on record that the young man is the longest serving political prisoner in Nigerian history. Nobody has been this victimized," he argued.
When contacted, aides and close associates of Kwankwaso denied knowledge of Mohammed's planned defection.
A particular aide however warned against imposing Mohammed on Kano PDP.
The aide, who didn't want to be named, said his boss had become so popular due to his transformation of Kano state, and that any move to embarrass the governor would backfire.
"We are not opposed to anybody joining PDP. In fact, we welcome that, for the more, the merrier. However, if the reason of admitting him is to fight His Excellency (Kwankwaso), then it would surely backfire," he warned.
The aide held that it was politically improper for President Jonathan to agree to pitch himself in a war with Governors Kwankwaso, Aliyu Babangida, Murtala Nyako, Sule Lamido, and Aliyu Wamakko of Kano, Niger, Adamawa, Jigawa and Sokoto States respectively.
"These are second term governors, who really haven't got much at stake in 2015. On the other hand, it is the president (Jonathan) who has been secretly habouring plans for a third term, because as far as we are concerned, he is on his second term.
"He is the one who has everything to lose, especially given his third term ambition. He is in a political china shop. The sooner he threads softly, the less collateral damage he will inflict on the polity. So we cannot be bothered about who is coming into or leaving PDP," the special adviser declared.