Jonathan, Mark, Uduaghan, Ajimobi, Tinubu Condole Fashola On Father's Death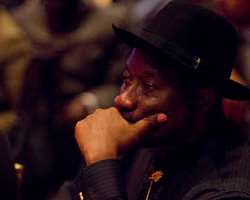 SAN FRANCISCO, August 05, (THEWILL) – President Goodluck Jonathan, Senate President David Mark, Governors Emmanuel Uduaghan and Abiola Ajimobi, as well as Senator Bola Tinubu, have conveyed sincere condolences to Governor Babatunde Raji Fashola of Lagos State, on the death of his father, Pa Ibrahim Ademola Fashola, 79, who died on Monday morning in Lagos.
"On behalf of himself, his family, the Federal Government and the people of Nigeria, President Goodluck Jonathan conveys sincere condolences to Governor Babatunde Fashola of Lagos State on the death of his father, Pa Ibrahim Ademola Fashola earlier today in Lagos.
"As they mourn Pa Fashola, President Jonathan urges Governor Fashola, his family and people of Lagos State to give thanks to God Almighty for the octogenarian's very exemplary and accomplished life.
"The President urges to them to be comforted by the knowledge that Pa Fashola is returning to his Creator as a very blessed and fulfilled man who lived to see his son become a two-term Governor of one of Nigeria's most populous and vibrant states," the Presidency said in a statement.
Senator Mark in his message said Pa Fashola lived an eventful and accomplished life worthy of emulation.
"I received the news of the death of your beloved father with shock and sadness at a time his wealth of experience and wisdom is most needed. I am however consoled that your father lived an exemplary life and left a legacy of selfless service to the community.
"Your track record of achievements especially your excellent performance as the governor of Lagos State bears eloquent testimony that your father left a legacy of integrity and excellence.
"I can only urge you to continue in that stead and live up the billing as a further testimony that Pa Fashola lives," Mark wrote in a statement, adding that history will be kind to Pa Fashola for his meritorious services and contributions to the development of the community especially in Lagos State.
"Pa Fashola will surely be given a pride of place when history especially that of Lagos State is written," he said.
Uduaghan in his condolence message specifically stated that the people and Government of Delta State share in the pain and sense of loss occasioned by the death of his pa Fashola.
"The people and Government of Delta State share in this grief and pain. We understand the sense of loss that this death has engendered. We are with Governor Fashola every step of the Way", he stated.
The Delta Governor further noted that the elder Fashola died at a time when his fatherly love, care and wisdom were still needed, but added that like all mortals, the deceased had to bow to the will of the Almighty God who is the author of life.
Uduaghan prayed God to grant the people and Government of Lagos State as well as the entire family the fortitude to bear the loss.
Governor Ajimobi of Oyo State in his message described the demise of the patriarch of the Fashola dynasty as a great loss to the family.
"Papa was a devout Muslim, community leader and a shining example of humility and philanthropy, as he shared virtually everything he had with the needy, irrespective of where they came from,'' he remarked.
Although the governor said that the deceased would be sorely missed by his immediate family, the people of Lagos State and indeed, the whole of South-West, he, however, admonished Governor Fashola and his other siblings to take solace in the fact that he lived a fulfilled life.
Sen. Ajimobi prayed for the repose of the soul of the deceased, and the Fashola family the fortitude to bear the irreparable loss.
"He died a fulfilled and happy man. He gave Lagos and Nigeria his best" – Tinubu
Also, Bola Tinubu, who is presently abroad on medicals, expressed great shock and deep sadness over Pa Fashola's death.
"While in the USA, I received the news of the death of Pa Ademola Fashola, the father of the Governor of Lagos State, Babatunde Fashola, with great shock and deep sadness. His demise even at the ripe age of 79 years is a hurtful one and we have indeed lost a true, honest, steadfast and dependable father. Pa Ademola Fashola, a man of integrity, was a father no one would want to lose at a time like this. My family and I send our heartfelt condolences to Governor Fashola on this great loss," Tinubu said.
"We must find solace and take comfort in the fact that Baba lived a fulfilled life and passed away with the knowledge that he gave his very best to his family, to Lagos State and Nigeria. There is no greater testimony to this than his son, Babatunde Fashola, the Governor of Lagos who has given a new meaning to good governance and purposeful leadership.
"Pa Fashola, Lagosians thank you. Nigeria thanks you for giving us a son like Babatunde Raji Fashola.
"Governor Fashola must remain strong in the face of this great loss of a dotting father, especially as all his other siblings look up to him for strength and courage. May Allah (SWT) be his consolation and grant him peace at a time like this," the former Governor of Lagos State said.