Reps Accuse MDAs Of Diverting N2 Trillion Annually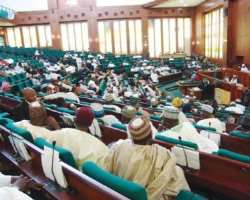 ABUJA, August 04, (THEWILL) – Chairman of the House of Representatives Committee on Finance, Hon. Abdulmumin Jibril (PDP, Kano) has said that the various revenue generating agencies of the federal government divert the sum of N2 trillion annually.
Jibril, who made the revelation in Abuja, said his committee discovered that about 60 revenue generating agencies have not been remitting their revenues to government coffers contrary to the provisions of the Fiscal Responsibility Act.
"We did some kind of internal work and came to a conclusion that collectively most of these agencies if we harness their potentials, altogether we should be talking about a collection of over N2 trillion per annum, which is almost 70% of the total capital budget of the country.
"We started the exercise and went beyond the 31 agencies. We said let's see if it is only 31 agencies that raise such revenue, and we picked 60 agencies. The result has been overwhelming. We discovered that the process is shielded in massive fraud, connivance, concealment and so on.
"We found out that all of the 60 agencies are generating a lot of money and very insignificant proportion is being remitted to the Consolidated Revenue Fund, less than 2%, 3% of such," he said.
Jibril added that, "We built a template and gave the agencies; they filled in all their figures. We then computed all what the agencies should pay. They started paying in December last year. From that time to May this year, going by the figures from office of the Accountant-General, they paid a total of N108 billion.
"We want to strengthen them to now become more aggressive in this process of revenue generation. On one hand, they say they are not mentioned in the schedule of the Fiscal Responsibility Act, so why are we asking them to pay, even when they generate those resources and they do not account for them?
"But the most frustrating thing about it is that most of the agencies that take subventions from government, that money is budgeted for them 100%, they raise this revenue and do not remit it. That is why we decided that we were going to take this exercise to another level, and we will make sure that these agencies continue to remit exactly what they are supposed to remit," Jibril said.