Gbenga Adeboye's Mother For Burial Sept 13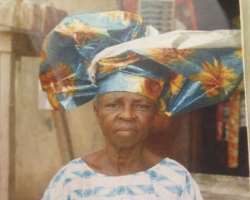 Remains of Madam Rebecca Tinuola Adeboye, mother of the late ace stand-up comedian and broadcaster, Gbenga Adeboye has been slated for burial on Friday, September 13, 2013.
Already, members of the Freelance and Independent Broadcasters Association of Nigeria (FIBAN) have taking up the task of joining late Gbenga Adeboye's siblings to give Madam Rebecca Adeboye a befitting burial to honour her late son, Gbenga Adeboye.
Chairman of Mama Adeboye Burial Committee (MABUCO), a committee set up by FIBAN, Tomogun Olubunmi, said in a release issued today that; "No effort will be spared to make sure that the burial ceremony is grand because Gbenga Adeboye was very dear to us."
Madam Adeboye, who died on July 2, 2013 at the age of 86 will be buried at Ode-Omu, Irewolede Local Government Area of Osun State.
"This is one burial that is very dear to us because of the roles Gbenga Adeboye played in the formation of FIBAN and we are ready to give all that it will take for the burial to be memorable.
"We know what Gbenga Adeboye would have done on such a day that his mother would be buried if he were to be alive and we will make sure that we do what he (Gbenga Adeboye) would have done before, during and after the burial.
"Already, we have set up various sub-committees that are working assiduously on all aspects of the burial and by the grace of God, September 13, 2013 will be a memorable day in Ode-Omu," Tomogun Olubunmi said.