U.S. Factory, Jobless Data Point To Firming Economy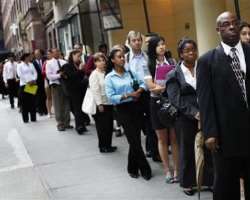 U.S. factory activity jumped to a two-year high in July and first-time applications for jobless benefits hit a 5-1/2-year low last week, bolstering views economic growth would accelerate in the second half of the year.
The burst of strength in the economy as the third quarter started keeps on track expectations that the Federal Reserve will start reducing its monetary stimulus later this year.
"The future growth outlook remains on a highly positive trajectory, keeping the September tapering timeline firmly intact despite the Fed's nod to below-target inflation," said Gennadiy Goldberg, an economist at TD Securities in New York.
The Institute for Supply Management said on Thursday its index of national factory activity rose to 55.4 last month from 50.9 in June, buoyed by a surge in new orders and production.
A reading above 50 indicates expansion in the sector, which hit a soft patch in the spring.
The pick-up in manufacturing was also corroborated by financial data firm Markit, which said its U.S. Manufacturing Purchasing Managers Index rose to a four-month high in its final July reading.
Measures of factory jobs rose in both reports, with the ISM employment index reaching its highest since June last year.
The improvement in employment dovetailed with a separate report from the U.S. Labor Department showing initial claims for state unemployment benefits dropped 19,000 to a seasonally adjusted 326,000 last week, the lowest since January 2008.
While claims are usually volatile in July due to auto plant shutdowns, economists who had expected new filings to rise to 345,000 said the general tone of the report was consistent with a pick-up in job growth.
The four-week moving average for new claims, which irons out week-to-week volatility, fell 4,500 to 341,250.
"This suggests the labor market is still expanding. There is no sign that it's slowing. It might actually be picking up a bit," said David Sloan, senior economist at 4Cast in New York.
Automakers traditionally close assembly plants for retooling in July but they have now either shortened the shutdown period or forgone closures altogether, throwing off the model that the government uses to adjust the data for seasonal variations.
Stocks on Wall Street pushed higher, with the Standard & Poor's 500 index topping the 1,700 level for the first time. U.S. Treasury debt prices fell, while the dollar rallied against a basket of currencies.
GOOD START TO THIRD QUARTER
Last week's claims data has no bearing on Friday's U.S. employment report for July as it falls outside the survey period. The government is expected to report nonfarm payrolls increased 184,000 last month after rising 195,000 in June, according to a Reuters survey of economists.
The jobless rate is seen ticking down a tenth of a point to 7.5 percent. However, there is a risk payrolls could surprise on the upside after a report on Wednesday showed U.S. private employers maintained a high pace of hiring in July.
Overall U.S. job gains in the second quarter averaged 196,300 per month.
In another report, consultants Challenger, Gray & Christmas said planned layoffs at U.S. firms fell 4.2 percent in July.
The factory data and steadily improving labor market conditions suggested the economy got off to a good start in the third quarter. Gross domestic product grew at a 1.7 percent annual rate in the second quarter, up from a pedestrian 1.1 percent pace in the first three months of the year.
New orders in the ISM survey touched their highest in two years and a drop in inventories suggested further strength in order books was in the cards.
"We have been arguing that manufacturing growth would strengthen in the second half of the year as the drag from Europe diminished and as capital spending picked up," said John Ryding, chief economist at RDQ Economics in New York.
"This report is consistent with this view and, given the size of the gain in new orders and the drop in inventories, it suggests the faster growth rate will be maintained into August."
Manufacturing could get a boost from robust demand for trucks, thanks to a strengthening housing market. General Motors Co, Ford Motor Co and Chrysler Group reported strong truck sales in July. However, low inventory of some popular car models slowed automobile sales.
While Federal Reserve policy-makers on Wednesday after a two-day meeting offered no indication they planned to reduce the U.S. central bank's monthly $85 billion in bond purchases at their next meeting in September, economists said the silence on that issue was aimed at keeping market-set interest rates tamped down.
"For the Fed, it clearly wants to taper (bond purchases) reasonably soon. We are still on a path toward tapering," said Pierre Ellis, senior global economist at Decision Economics in New York.
A sixth report, from the U.S. Commerce Department, showed an unexpected drop in construction spending in June. Economists were little concerned about the decline, however, noting that May and April's construction outlays had been revised higher.
"Significant upward revisions to May and April left an overall positive picture for the second quarter, consistent with the solid growth in residential and structures investment seen in yesterday's second-quarter GDP report," said Peter Newland, a senior economist at Barclays in New York.
Construction spending dropped 0.6 percent to an annual rate of $884 billion, the Commerce Department said.
REUTERS