THE SPREAD OF ECONOMIC PROSPERITY IN AFRICA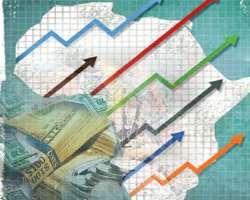 Indeed Africa has experienced a tremendous growth rate over the past decade and rated as one of the fastest growing continent in the world. A new economic prosperity momentum has been established; but what does this mean to the very people on the continent? What actually are the strengths and the patterns of this economic prosperity on the continent of Africa? This economic prosperity has also been largely jobless and therefore associated with increasing unemployment especially among African youth. In addition, this growth has left out many already disadvantaged groups such as rural communities, women, traditionally marginalized people, etc. In short, the economic prosperity in Africa has not been inclusive enough.
Economic prosperity is a relative term. It means that overall, the economy is doing well and most people have sufficient income for essentials and perhaps a little extra. It means that businesses are hiring and jobs are relatively easy to get. It does not mean that everyone has a job or that everyone is well off. It is interesting to note however, that the move from universal poverty to varying degrees of prosperity has happened rapidly in the span of human history. Two hundred years ago the idea that we could potentially achieve the end of extreme poverty would have been unimaginable. Just about everybody was poor, with the exception of a very small minority of rulers and large landowners.
The growing number of success stories across Africa indicates that broader social and economic progress is realistically attainable for most Africans. However, the need to ensure that the continent's economic growth also creates jobs and helps rescue millions from poverty is of utmost importance. Although Africa is still bedeviled by poverty, with half of its people living on less that $2 per day, its economic growth over the past decade has been remarkable. Africa's trade with the rest of the world has increased by more than 200 percent, annual inflation has averaged 8 percent, foreign debt has decreased by 25 percent, and foreign direct investment grew by 27 percent in 2011 alone.
Why does economic development not translate into human development and reduction of poverty? Is the current African growth sustainable?
Beginning late in the 1990s, the African continent experienced a series of economic shocks and demographic changes that caused economic inequality to rise sharply . . . Although the facts are well known, we still understand very little of their larger social significance. Is the recent burst of economic inequality nothing but a temporary consequence of the transition to a new and more productive economy? Will inequality, once under way, prove difficult to reverse? This might happen if the families who have fallen behind economically also fall behind in other ways that will make it more difficult for them, and for their children, to compete with the more advantaged.
This brings to light, the importance of making the spread of economic prosperity more inclusive and this means that there is the need to critically examine a variety of issues such as identification of strategies for ensuring that growth translates into improved livelihoods for people; policies that empower the poor and landless, and educational policies that build the capacity of youth and other disadvantaged communities and enable them to participate in the economy.
Inclusive growth simply implies that there is a conscious effort to ensure equitable allocation of resources with benefits spread to every section of the society. That is, an economic prosperity which is shared and geared towards the excluded in the society and one which is broad based. Inclusive growth deals with policies that allow people from different groups –gender, ethnicity, religion‐, and across sectors – agriculture, manufacturing industry, services, to contribute to, and benefit from economic prosperity.
Inclusive growth means eliminating and addressing the issues of inequalities on the African continent. This means there is equal access by the rich and the poor to employment creation, market, consumption, production, health care, improved standard of living etc. That is an economic growth that results in a wider access to sustainable socio-economic opportunities for a broader number of people, countries or regions, while protecting the vulnerable, all being done in an environment of fairness, equal justice, and political plurality.
Through inclusive growth, the continent can reduce poverty to the minimum level. Inclusive growth would make the poverty reduction efforts more effective by explicitly creating productive economic opportunities for the poor and vulnerable sections of the society. It will decrease the rapid increase in income inequality and poverty in Africa and increase the involvement of people in the economic prosperity. Because poverty and inequality are so intimately linked, predictable and sound macroeconomic policy frameworks that are supportive of inclusive growth, private sector development, employment, and value addition, are essential for Africa's economic transformation and sustainable development.
Doing this requires growth with equity. Economic growth is vital but not sufficient to reduce poverty. It requires policies to support it to advance the reduction of poverty on the continent. This can be manifested in policies to boost agricultural production, quality education, private sector involvement and improvement, addressing gender and regional disparities and improving the investment climate.
Again, achieving inclusive growth on the continent requires a high level of political commitment. There is the need for a political will and political stability before all policies to achieve inclusive growth by countries across the continent is realized. There must also be the framework to increase institutional capacity on the continent. This will help to breed effectiveness and efficiency at the various institutions tasked to ensure the attainment of inclusive growth.
Furthermore, achieving inclusive growth and reducing poverty and joblessness on the continent requires strategies for job creation. Africa has the most youthful population in the world with most of them dominant in agricultural and informal employment and a small share of private industrial employment. Hence to be able to absorb the millions of these youth, labor intensive production strategy is highly necessary. Governments must increase their budgetary allocation to the agriculture sector, invest more in agriculture-related infrastructure for instance, rural roads, access to electricity, water and sanitation programs; and promote agro-business and small / medium entrepreneurship e.g. create an enabling environment for private sector development and investment. This will help to include more people in the production process by bridging the gap between the haves and have not, and hence spreading the economic prosperity to all.
Written By Paul Frimpong

Disclaimer:

"The views/contents expressed in this article are the sole responsibility of the author(s) and do not necessarily reflect those of The Nigerian Voice. The Nigerian Voice will not be responsible or liable for any inaccurate or incorrect statements contained in this article."
Articles by thewillnigeria.com