Wall Street Advances On Data As Fed Statement Looms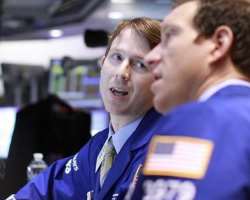 U.S. stocks rose on Wednesday after stronger-than-expected data on jobs and the economy, but investors remained focused on a Federal Reserve statement that could spell out the U.S. central bank's stimulus plans for the coming months.
The statement from the Fed, due at 2 p.m. (1800 GMT) at the end of a two-day meeting, will be scrutinized for clues on when the central bank may begin to pare its $85 billion a month in stimulative bond purchases as the recovery takes hold. The Fed's stimulus is seen by many as central to the stock market's gain of nearly 19 percent so far this year.
U.S. gross domestic product unexpectedly accelerated in the second quarter at a 1.7 percent annual rate, and private employers added 200,000 jobs in July, topping economists' expectations. The ADP jobs data laid a firmer foundation for the year that could bring the Fed closer to cutting back its stimulus.
"It looks like this market wants to go higher. The GDP number that came out this morning was a big surprise," said Catherine Avery, president of Catherine Avery Investment Management in New Canaan, Connecticut.
"The big thing is what's going to happen this afternoon when we get the Fed statements - do we get a tapering, do we not get a tapering?"
Eight of the 10 S&P 500 industry sectors moved higher, with growth-sensitive cyclical shares leading the gains. The S&P 500 consumer discretionary index .SPLRCD added 0.9 percent and the S&P 500 energy index .SPNY rose 0.8 percent.
Comcast Corp (CMCSA.O) gave the S&P 500 its biggest boost after the U.S. cable provider posted a higher quarterly profit on Wednesday, as it added more Internet customers than expected on the cable side and saw a more than 20 percent increase in operating cash flow at its NBC Universal unit.
Shares of Herbalife (HLF.N) rose 6.6 percent to $64.01 after CNBC reported that billionaire George Soros has taken a large long position in the nutritional supplement company, citing sources on the matter. Herbalife's stock jumped as high as $66.25 on the report, its highest price since May 2012.
The Dow Jones Industrial Average .DJI was up 81.05 points, or 0.52 percent, to 15,601.64. The Standard & Poor's 500 Index .SPX rose 8.81 points, or 0.52 percent, to 1,694.77, and the Nasdaq Composite Index .IXIC added 18.59 points, or 0.51 percent, to 3,635.05.
The S&P 500, up 5.5 percent so far in July, is on track for its biggest monthly percentage gain since October 2011.
Facebook Inc's (FB.O) stock traded above its initial public offering price of $38 for the first time since its market debut, a milestone for the social networking company and a chance to erase Wall Street's early skepticism about the company. The stock rose as much as $38.31 and was recently up 0.5 percent at $37.83.
Air Products & Chemicals (APD.N) shares gained 4.1 percent to $109.90 after activist investor William Ackman said his Pershing Square Capital Management has acquired a 9.8 percent stake the industrial gas producer.
Symantec (SYMC.O) shares rose 8.3 percent to $26.36 a day after the maker of Norton anti-virus software posted better-than-expected quarterly results as customers used more of its security products in the wake of a series of hacking attacks.
With quarterly results in from 60 percent of the S&P 500 companies, 67.4 percent have exceeded earnings expectations - in line with the average beat over the last four quarters. About 55 percent of companies have topped revenue expectations, more than the 48 percent of revenue beats in the past four earnings seasons but below the historical average, Thomson Reuters data showed.
Amgen Inc (AMGN.O) fell 2.6 percent and was among the biggest drags on the S&P 500 a day after the company reported higher-than-expected profit in the second quarter as sales of its medicines rebounded from a disappointing first quarter.
REUTERS