Statement: Anambra And The National Transformation Agenda By Hon. Oseloka Henry Obaze
At The Interactive Session With The Study Team From The National Institute For Policy And Strategic Studies (NIPSS) Kuru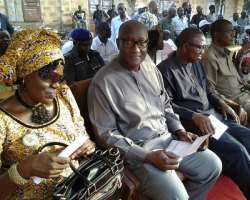 [Protocols]

On behalf of H.E. Gov. Peter Obi, CON, and our dear Deputy Governor, I welcome Prof. Olu Obafemi and the members of the National Institute for Policy and Strategic Studies' (NIPSS) study team to Anambra State and particularly, to this interactive session with the representatives of the State Government.

We welcome the decision to evaluate the ongoing Transformational Agenda, and to make Anambra State a core segment and proactive model in the evaluation process.

We are elated but not surprised that you have selected Anambra state as a top case study for good governance, purposeful leadership and as being highly reflective and in tandem with the ongoing Transformational Agenda put in place by H. E. President Goodluck Ebele Jonathan.

Our State has become a reference point and an exemplar of how to govern well, accomplish policies and deliver public services. We are fortunate that Gov. Peter Obi made the Millennium Development Goals (MDGs) our trademark reference point and good governance benchmark.

We appreciate the critical role of NIPSS in national development and more so, in articulating and evaluating policies. We are therefore gratified that your present tour, which will enhance the study of comparative governance and politics, will further assist the federal government in strengthening its relations with states, especially, those states like ours, which is not controlled by the ruling party –the PDP.

A few days back you had an opportunity to hear directly from His Excellency, Mr. Peter Obi, about our policies and process, about our values in governance as well as our challenges. As he told you, Anambra was the first state to voluntarily subject itself to PEER Review.

You have also had the direct experience of touring some of our facilities and projects. This morning, you will hear form my colleagues, who are charged with the direct day-to-day running of the MDAs and indeed, with implementing the core tenets of the Anambra Simultaneous Development Strategy, (ANIDS), which is the bedrock of our transformation agenda.

The transformational agenda is a national scheme into which we, as a state have keyed in. We see that agenda a shared value and its realization as a shared responsibility between the federal government and the States, despite our unique federalism. Our role is to help in fusing the disparate strands of federal and states development policies and programmes.

We are a large nation with disparate sectional interests and values. But our domestic concerns and the basics needs of our people are near universal. There are, therefore, an abundance of commonality of shared interests, albeit, with different perspectives on how to accomplish them.
If Anambra state has engaged in best practices, it is because we understand governance to be a process and a continuum. We are aware that national transformation must commence at the grassroots, must be driven at the state level and should be regulated at the federal level.

We appreciate that there must be pockets of excellence at different areas, and that states must establish niches and areas of comparative advantage to be viable and to survive.

As a state, we in Anambra premise what we do on a clear strategy for development, which also encompasses strengthening our foundation and institutions, improving access to roads, information and other forms of service delivery and above all, we take pride in running and all-inclusive government. We also pride ourselves in not being wholly dependent on federal allocations, even as we struggle with our internally generated revenue (IGR) scheme.

We make bold to say that we are one of the few states that can run for three months without any allocation from Abuja. That is part of our fiscal responsibility and purposeful governance architecture.

My job this morning is a simple one; to set the tone for this interactive session. So what are we doing in Anambra? You will hear from my colleagues on the specificities, but allow me to tackle the ballpark issues.

As a State, we are committed to partnering with the federal government in key areas and sectors germane to our national development, and the creation or wealth, economics growth and jobs for our people.

We share the view that transformational policies at all levels should be anchored on far-reaching reforms in various sectors of our economy both as building blocks and as parameters for attaining sustainable development.

For us as a State, industry, agriculture, public utilities, transport and security, are critical sectors requiring expansion. We have however, given premium to education and healthcare delivery and indeed, these sectors are not just yielding discernible results already, but have become the focus of several international studies.

While we work hard to establish the necessary synergy with the federal government, and indeed have been most proactive in supporting federal presence and institutions in Anambra, the complimentary return, in terms of federal projects in our state has been rather limited. Nonetheless, we must acknowledge existing areas of cooperation.

We have direct, fully-owned or shared federal projects such as the installation of the Transmission 330KV line Bays and the Power Substation at Onitsha (Awada); The Rehabilitation of the Lower Anambra Irrigation Project at Omor Ayamelum; the ETF, TEF, IGR Capital Projects and Community Radio and the Nnamdi Azikiwe University (UNIZIK); the Ultra-Modern NAFDAC Laboratory at Agulu; The Central Bank Complex in Awka; the 25, 500MT Agricultural Storage Facility in Igbariam, and support for the Innoson Vehicle Manufacturing, Nnewi, the only one of its kind in West Africa.

Finally, we are most gratified that work on the Second Niger Bridge, we soon commence, as it would address our transportation needs and also create employment. However, the Onitsha River Port Complex, a federal presence is still very much underutilized.

One sour point in our relations with the federal government and where indeed that is dearth of transformation, pertains to federal roads in Anambra and the entire southeast zone. As a state with the best network of roads and arterials, our federal roads are simple in a very shameful and dismal state of disrepair.

In a nutshell, how are we supporting the transformation agenda? Today, Anambra is the state with the highest the foreign direct investment (FDI) outside the oil sector. We attract the highest numbers of development partners from the international donor community. As you know donors are averse to risks, insecurity and bad governance. So if they come here, it means we are doing well.

In 2011 our national economy grew by 7.69% but our state economy topped that as it stood at 7.8%. Anambra also topped the national economic growth of 6.17% in 2012 by several decimal points. Furthermore, we claimed a lion share of the $8.7 billion that flowed into Nigeria between 2011 and 2012. It is, therefore, not surprising that our economy, hitherto one of the smallest in the country has grown to a medium-sized economy, as evidenced by that fact that in the past 36 months, Mr. President has commission far more private industries in Anambra than in any other state in the federation.

If there is one area we are exceedingly proud of ourselves, it is in the area of poverty reduction and striding towards economic self-sufficiency. Indeed, our commitment to building a road network is tied to the question of access and poverty reduction. As His Excellency told you, we were the first state to do poverty mapping; just last week we flagged off our Conditional Cash Transfer (CCT) programme and you will be present when we flag off our Senior Citizens Social Welfare Scheme; one of such schemes anywhere in the country.

Overall, we have and continue to support the Transformational agenda by creating an enabling environment for foreign and domestic investors. Our overall strategy is targeted at shifting our focus and niche from being supply-driven to being demand-driven. Our budgetary process is open and our budget is results-based, as you will soon observe.

Like the federal government, we in the Anambra are fully aware of the place of science and technology and industrialization. We cannot afford to be indifferent since we have been told that the most expansive and intensive industrial hub emerging in Africa, which holds out infinite possibilities, is the so-called ONA Industrial Axis (Onitsha- Nnewi-Awka industrial axis)[1]. Our industrial hub has been characterized as singularly having the greatest potential for investment, growth, and productivity in Africa. Its benefits will in the short, medium or long-term serve Nigeria well.

Let me stop here and allow my colleagues to weigh in on the various areas within their purview. I hope that in the end and in your report, you will underline Anambra's commitment to the transformational agenda, and her pivotal role in ensuring that her policies and schemes are in tandem with our overall national strategy for making Nigeria a critical player in the international system.
Thank you. And may God's Blessings and Grace be on us all.