Church Raises Wild Alarm Over Threats To Boko Haram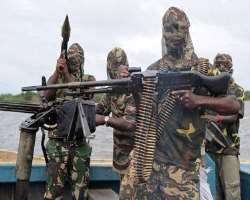 Officials of the Distrct Church Council (DCC) of Ekilisiyar Yan' Uwa A Nigeria (EYN) in Barawa of Borno State have raised an alarm over threats from the dreaded Boko Haram sect.
The Church said a threst letter had been issued to its pastor, Mr. Yakubu Toeye on 8th July, 2013 and therefore wrote apetition to Governor Kashim Shettima calling for his help in securing the church and its members.
The petition indicated that in the last three months, 15 people had been killed in Barawa ehile 274 houses, 12 churches, and 341 bags of grains destroyed, allegedly by members of the Boko Haram.
The petition indicated that the threat letter which was written in Hausa was akso given to people of Chinne, Arbokko, Attagara andNgoshe 1and 2 , all of them villages situated along the Nigerian border with Cameroun.
The petition which was signed by the DCC Secretary, Rev. Joel Y Ndirmbita was reportedly copied to the Joint Task Force (JTF) Commander, Police Commissioner, Director of State Security Services and the Gwoxa Emirate Council.