SUDAN'S SPLM REACHES BREAKTHROUGH DEAL ON POLL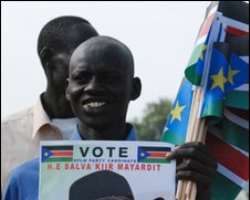 nerPostTitle">SUDAN'S SPLM REACHES BREAKTHROUGH DEAL ON POLL Written by Prince World News http://www.nigerianbestforum.com/blog/?author=1 http://www.nigerianbestforum.com/blog/?cat=402 Feb 28, 2010
http://www.nigerianbestforum.com/blog/wp-content/uploads/2010/02/i_47382655_sudanafp.jpg Sudanese are gearing up for their first real elections in 24 years
The main parties in north and south Sudan have reached a deal on the distribution of seats in parliament, ending a long deadlock.
The south will get an extra 40 seats in parliament, meaning MPs from the region could block constitutional changes.
Under the 2005 peace deal which ended two decades of civil war, a referendum is due next year on whether the south should secede.
Some in the south feared the north could use its majority to block this.
Tension is rising ahead of Sudan's first national, multi-party elections in 24 years, due in April.
The BBC's Peter Martell in the southern capital Juba says the deal is a major breakthrough.
According to last year's census, the south's population is just 21% of that in the north.
With parliamentary seats reflecting population distribution, northern MPs would be able to change the constitution on their own.
"We felt the CPA [peace deal] was under threat, and a number of things that we seriously want to protect like the referendum, like the bill of rights, would have been affected," said Anne Itto, deputy secretary for the south's ruling Sudan Peoples' Liberation Movement (SPLM).
The extra seats take the south's share beyond 27%, giving them the power of veto over constitutional changes.
The deal comes just ahead of the April polls, although the new seats allocated will be appointed after the election.
Seats were also allocated for the contested border regions of Abyei, as well as in Southern Kordofan.
There, Ms Itto said that elections would go ahead, overturning an earlier threatened boycott by the SPLM.
The 22-year war between the mainly Muslim north and the Christian and animist south claimed the lives of some 1.5 million people.