BREAK-UP 2015: NO JONATHAN, NO NIGERIA- BIAFRA ACTIVISTS SHOULD VOTE OUT JONATHAN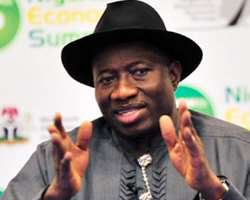 Succession politics have heated up the polity so much that President Jonathan's kinsmen have threatened 160 million Nigerians that if he loses the next election, they will break up the nation-therefore proponents of Biafra, Oduduwa, Arewa republics should take the cue and vote out Jonathan in 2015.
Goodluck Jonathan became the president of Nigeria on a platter of gold (death of Yar'adua and Boko Haram attacks) under an obvious divine interjection. His predecessor Yar'adua became president on a platter of gold (Obasanjo do-or die electoral malpractice and ruling party convention manipulations). Obasanjo too became president in 1999 on a platter of gold (Babangida and anti June-12 elements used him to frustrate Olu Falae).
Now the same break-up of Nigeria which caused the civil war is being offered on a platter of gold-'If Jonathan Fails We Break-Up Nigeria'. This is the story militant leader Asari Dokubo, Kingsley Kuku and others, both young and old, has been singing. They claim they are threatening the north-but actually they are threatening the entire Nigeria. They are actually warning Afenifere, Ohaneze, Arewa, MASSOB,OPC, Boko Haram, CAN, PFN,SCIA and all groups in Nigeria that if kinsman Jonathan fails the 2015 election, there will be no Nigeria.
According to Dokubo, ''I want to go on to say that, there will be no peace, not only in the Niger Delta, but everywhere if Goodluck Jonathan is not president again, by 2015, except God takes his life, which we don't pray for''. Kingsley Kuku Special Adviser to the President on Amnesty told US Deputy Assistant Secretary of State (African Affairs) in Washington DC that' It is only a Jonathan presidency that can guarantee continued peace and energy security in the Niger Delta''
These and numerous other inflammatory statements are self serving and devoid of reasoning. Instead of these warlords advising their kinsman to apprehend the subsidy thieves who stole N1.7 trillion ($12 billion dollars) of Nigeria's money and use the recovered funds to provide employment and other FRESH AIR he promised Nigerians, they are threatening everybody. Instead of telling their kinsman to seek for the recovery of the $67 billion dollars embezzled from the time he was Vice President under Yaradua till date when the lid was opened by Mrs Oby Ezekwesili and use such to provide enabling critical infrastructure in Nigerian , they are threatening everybody. Instead of telling their tribesman to investigate the people behind the $1billion dollar Malabu Oli deal, a fund that can construct ten new federal universities, they are threatening war. The truth is that such silly noise making has done more harm to the Jonathan presidency than anything else.
There is no doubt that the north is under the curse of nemesis –with the Fulani herdsmen creating confusion all over the Middle Belt and South-the prospects of a united northern challenge is impossible.
The Yoruba west is observing at the entire scenario, knowing that they wouldn't bat an eye if the nation breaks up. I want to state it categorically that Yoruba have nothing to lose if Nigeria breaks up and as such when such ethnic inflammatory nonsense is spewed out- they should stop being cowardly and dare the break-up.
The middle-belt will not lose much under a broken Nigeria. Since they started serving the core north, they have been rewarded with religious riots, herdsmen attacks and marginalization.
The core north will even recover from a balkanized Nigeria. Mallam Shekau and his criminal band have at least shown that they have an ideological base to their struggle-they want to practice their Sharia without western influence-which the north is entitled to if that is what they want. Shekau and his marauders have refused to be bribed to drop their murderous ideology despite all the billions offered by different negotiating groups since the conflict started. If they manage to control the north- they will most probably wipe off corruption and child marriage in a matter of weeks.
For the Ijaws, they are ready for the break-up of Nigeria. Senator Joseph Waku and Mallam Nasir El-Rufai among numjerous informed outsiders have already made the matter an open issue. Bayelsa state has its own national flag and national anthem and coat of arms. The problem is that the Western countries are not yet favorably disposed to an Ijaw Republic. There is fear in the US that militants and criminal elements within Ijaw nation will overshadow and control the bureaucrats, professionals and progressives among them making the new republic another conflict zone. Discuss with these militants in Transcorp Hilton, Nicon Luxury, Rock View and other hotels they usually lodge and enjoy themselves in the city of Abuja ,you will discover a mindset ready to pillage the nation and go their way.
Where does Biafra stand in all these? The usual unpreparedness that cost Biafra the civil war. North is ready to confront Jonathan. Jonathan's kinsmen have made a plan B. Yorubas may catch in on the situation to declare Oduduwa republic. Igbos are just clinging to Jonathan as if the destiny of over 50 million of them depends on him-arrant nonsense. By the time Jonathan sells them to protect himself and his people's aspirations, they will cry betrayal they way they cried over Awolowo.
MASSOB, BILIE, ALADIMMA, BIAFRA FOUNDATION, Ohaneze Youths and all the groups seeking for the actualization of Biafra should utilize this golden opportunity. Mobilize and vote the incumbent out in 2015 and Ijaws will declare an Ijaw republic-in the ensuing confusion, declare a Biafra republic and have your freedom.
Jonathan and his kinsmen are not interested in Biafra. They want their own country-Ogoni, Urhobo, Ishekiri all want separatist republic-and they may have back- up plans. What are Igbos doing-talking nonsense on facebook and twitter and whining around Jonathan presidency-instead of strategizing on how to contain the situation if things get out of hand.
By the time the prepared Ijaws goes home with the Yorubas under the saddle of Tinubu-who might declare himself the Emperor of Oduduwa Republic-the next confusion will be in Igbo lands and another pogrom and genocide against Igbos will begin in the north.
Asari Dokubo, Kingsley Kuku and other war mongers are talking some ethnic nonsense. However, this nonsense can turn to common sense-vote out PDP in 2015 and cue behind the Ijaw ethnic warlords to reclaim Biafra Republic, Oduduwa Republic, Benue-Plateau Republic, Sharia Republic and Boko Haram Republic.
Personally, I do not subscribe to the break-up of Nigeria. Every tribe in Nigeria has its good, bad and ugly and if the good ones join hands, heads and hearts together, they can reclaim back Nigeria from the forces of disintegration and shepherd the nation to greatness. If the incumbent can deliver on a quarter of his electoral promises, by 2015 the opposition will have nothing to use to campaign against him. However, with ethnic warlords and supporters of the president beating drums of war, separatism and threatening that come 2015, no Jonathan, no Nigeria, daring all of us, then to hell with Nigeria-lets help them break up the nonsense.
Written By Obinna Akukwe
[email protected]

Disclaimer:

"The views/contents expressed in this article are the sole responsibility of the author(s) and do not necessarily reflect those of The Nigerian Voice. The Nigerian Voice will not be responsible or liable for any inaccurate or incorrect statements contained in this article."
Articles by thewillnigeria.com