Dirty Politics: Umana Okon Umana And The Politics Of Calumny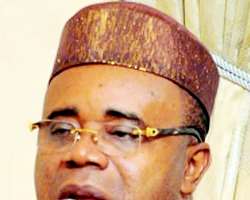 Umana Okon Umana is not, and has never been, a politician; his entire career paths have been spent as a seasoned civil servant. He has never contested for any elected office; therefore, Umana Okon Umana has no idea about the intricate approaches that elected officials often use in interacting with their respective constituents.
But come 2015, Umana Okon Umana wants to transform from being a civil servant to being a politician. A few days ago, either he held a press conference or had a press interview during which he declared his intention to contest for the governorship of Akwa Ibom State. The trouble is Umana Okon Umana has started his ambition with the politics of calumny and intimidation. Anyone who does not understand what I mean should ask Chief Ime Ekanem and the editors of Global Concord newspapers.
Chief Ime Ekanem is a business man, who has been initiating projects for Akwa Ibom State and usually he would seek for partnership with the Government of Akwa Ibom State.
The Uyo Airport was his brain-child, long before Godswill Akpabio was voted into office as a governor in 2007. The Ibom Tropicana was also his idea, until he made a mistake to bring Satan Godswill Akpabio into the deal.
As soon as he turned his back, Akpabio claimed responsibility and claimed the concept of Tropicana as if it was his original idea. That was around 2008 or 2009, or somewhere around that period. Till this day, the project is yet to get off the ground, despite the fact that more than N40 billion has already been wasted.
Like Umana Okon Umana, Chief Ime Ekanem also wants to be the next governor of Akwa Ibom State. A few weeks ago, he came out and made his intention known to the general public and to his potential supporters.
What Ime Ekanem forgot to include in his plans was how Umana Okon Umana would react to a potential rival. By the time he remembered this aspect of politics, he was already in police detention, which cost him more than one million naira, and a surety in double the amount, before the police would even let him have an audience with his lawyers.
Ime Ekanem is not a fugitive. He lives and does business in Akwa Ibom State. While in detention, he asked the police to give him reasons for his detention. They told him that the Akwa Ibom State Attorney General, cultist Ekpenyong Ntekim, has filed a petition against him demanding (from Ime) the sum of N10 million as the money he ( Ime) claimed from Akwa Ibom State Government from 2000 to 2007 under false pretense in connection with the Airport Project.
Before I continue, let me remind the readers that Umana Okon Umana is the Secretary to the State Government.
In the petition to the Criminal Investigation Department (CID), cultist Ekpenyong Ntekim also included that Ime Ekanem has transferred money and other properties into the account and name of his wife. Ekpenyong Ntekim wants the properties and the money, or else. And it is worth mentioning here that Chief Ime Ekanem does not work for the government; he is self-employed, with hundreds of employees in his payroll.
Another episode that Chief Ime did not know, until he was detained, was that while he is in Nigeria, and while in police custody, Akwa Ibom State Government had secretly sent people, who disguised themselves as his (Ime's) friends, to go to his house in the United States and interview his daughter, who lives here in the United States.
Luckily, the daughter, a smart young woman, refused to answer questions unless and until he speaks to her father and threatened to call the police if they refused to leave. They left in a hurry. But before they departed, as a face-saving tactics, they told the young lady that after she confers with the father, they would be back. That was a while ago and the cowards have not been back since.
As soon as he was released from detention, Ime Ekanem contacted his lawyers and mandated them to file for a restraining order against Akwa Ibom State Government and the Police as a protection from further harassment and intimidation. Both the Police and the Government have been served with the order.
And on Wednesday (August 24, 2013), just as the management of Global Concord was ready to distribute the days edition of their newspapers, Umana Okon Umana supporters seized 5,200 copies of the papers because, according to one of the numerous Media Specialist that caters to him, Global Concord does publish news that are favorable to Umana's quest for governorship.
Umana Okon Umana is a dangerous man. If he can begin now to play the politics of calumny, intimidation, and viciousness, and demonstrate naked intolerance for other aspirants, who are yet to even buy the nomination form, everyone is wondering what will happen when the campaign for 2015 election begins officially.
I have always advocated against Umana Okon Umana becoming the next governor of Akwa Ibom State. I am happy that many have begun to reason with me that if Umana becomes a governor, Akwa Ibom State will continue to descend into the era of darkness, where armed thugs will continue to harass citizens, kill them, and maim others.
If Umana becomes a governor, incidents of kidnaping will resurface at an alarming rate due to intolerance for the voices of opposition. Please let's join hands to STOP Umana Okon Umana, before it is too late.
Disclaimer:

"The views/contents expressed in this article are the sole responsibility of the author(s) and do not necessarily reflect those of The Nigerian Voice. The Nigerian Voice will not be responsible or liable for any inaccurate or incorrect statements contained in this article."