House: Federal Revenue Shortfall Hits N7.9bn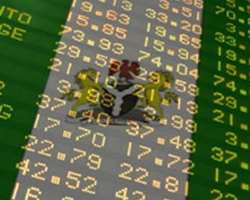 ...Proceeds on long recess
ABUJA, July 25, (THEWILL) – The House of Representatives, Thursday, said Nigeria's revenue shortfall had hit N700.879 billion as at May .
Chairman of the House Committee on Finance, Hon. Abdulmumin Jibrin, who disclosed this at the plenary disclosed that the nation's gross revenue budget for the fiscal year 2013 is put at N11,453,496 trillion.
Presenting a 'report on revenue generation for 2012 and 2013 (January – May)' on the floor of the House, Jibril put the budgeted collections from January to May at N4,772,290.
He disclosed that the nation's total gross revenue collection as at May 2013 is N4,071,411, compared to that of N4,381,485 as at May 2012, which variance is put at N310,074 billion or 7.08 percent.
"Comparing year-on-year collections for 2012 and 2013, government's collections are as follows: gross revenue collections for January 2013 is N856,082 billion while that of 2012 was N843,082 billion, leaving a variance of N13 billion or 1.54 percent;
"The Federal Government collected N791,670 billion in February 2013 and N951,198 billion in February 2012, leaving a variance of N159,528 billion or 16.77 percent; it generated N805,474 billion in March 2013 compared to N982,342 billion it generated in 2012, which left a variance of N176,868 billion or 18 percent; it generated the sum of N826,238 billion in April 2013 compared to N839,004 billion it generated in 2012, which left a variance of N12,766 or 1.52 percent; in May 2013, government generated the sum of N791,947 billion compared to N765,859 billion it generated in 2012... this is N26,088 billion or 3.4 percent.
"Note that the gross revenue budget for fiscal 2013 is N11,453,496 from N11,453 trillion, which gives a monthly average of N954,458 billion. For five months from January to May 2013, budgeted collections should be N4,772,290 from N4,772 trillion hence, as at May 2013, the federation has a shortfall of N700,879 billion or 14.68 percent," Jibrin explained.
On the sector analysis, he summed the total oil revenue collection at N3,085,664 for 2013 and N3,483,962 for 2012, which left a variance of N398,298 billion or 11.43 percent, while the sum total of the non-oil sector was put at N926,951 billion for 2013 and N824,223 bilion, which left a variance of N102,728 billion or 12.46 percent.
He warned that the worrisome issue of crude oil losses and pipeline theft would spell doom for the nation, if the executive does not hasten to address it.
Meanwhile, the House has proceeded on its annual recess to reconvene in September.