APC, Most Realistic Platform For Igbo Presidency In 2015—Okorocha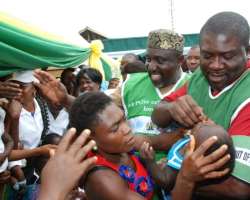 Governor Okorocha During A Polio Immunization Exercise Recently
Governor Rochas Okorocha of Imo State said at the weekend that the All progressives Congresses (APC) was the most realistic platform for the realization of Igbo presidency in 2015.
He called on the Igbo nation to rally round the new coalition of 'progressives as they would be offered better bargain if the party wins presidential elections/
He affirmed that an Igbo man could only be the president of Nigeria on the platform of the newly formed All Progressives Congress, APC.
Okorocha , who was speaking during the inauguration of the APC South-East Ward Mobilizers and Supporters Club at the Ahiajoku Convention Centre, Owerri in Imo State, at the weekend, said that the ruling Peoples Democratic Party (PDP) had not given Igbos deserved recognition despite the huge support the party enjoyed in the area.
The governor said the Igbo nation would be heartily welcomed to the new party if compared to the acceptance they will get from the ruling Peoples Democratic Party, PDP, while also accusing the party of relegating the zone to the background.
He said, "I am highly elated that our people are responding to this clarion call that had to do with our collective destiny and aspiration. It is a clear fact that Ndigbo has been relegated to sixth position in the political equation of our nation, not minding the fact that we formed one of the tripods upon which the nation stands."
Okorocha stated that a situation where the Igbos are not allowed to produce President, vice president, senate president, speaker of the House of Representatives and chairman of the ruling party, portrays that the zone is relegated to the background by the ruling party.
His words, "But my assurance today is that our tears would be wiped away in APC as we have no doubt to started well and finish on a very good note in this new party. Let me state categorically that Igbo presidency, which appears impossible in PDP would be actualized under the platform of APC. Therefore, I make bold to say that APC is truly an Igbo party and should be embraced by the entire Igbo nation."
Speaking further, he disclosed that with successful inauguration of the Ward Mobilizers and Supporters Club of APC, the party was ready to demonstrate its winning strategy in the November 6 Anambra governorship polls.
He also revealed his plan to hold crucial talk with Senators Chris Ngige and Annie Okonkwo, the party's frontline aspirants, in a bid to ensure smooth and peaceful emergence of the party's governorship candidate ahead of the election.