Underage Marriage: Senators Are Not Pedophiles - Mark, Says, We Were Blackmailed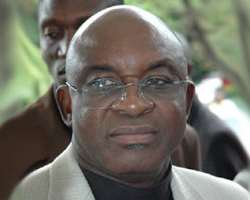 SENATE PRESIDENT, DAVID MARK
… Senate May Revisit Section 29(4)(b) Vote
ABUJA, July 24, (THEWILL) – Senate President David Mark on Wednesday declared that the Senate is not a nest of pedophiles as being cast in parts of the public.
He nonetheless indicated that the Senate may revisit the constitution amendment vote on Section 29(4)(b) widely interpreted in many quarters as an endorsement of underage marriage.
"We (Senators) are not pedophiles", Mark told a high-powered lobby delegation insisting that Senators were blackmailed on religious ground on the constitution amendment vote which sought to delete the "discriminatory" section 29(4)(b) from the Constitution.
The delegation under the auspices of Gender and Constitution Reform Network (GECORN) comprised the Minister for Women Affairs and Social Development, Hajiya Zainab Maina; Maryam Uwais; former Vice President of the World Bank for Africa and former Education Minister, Obiageli Ezekwesili; Secretary-general of Women's Right Advancement and Protection Alternative (WRAPA), Mrs Saudatu Mahdi; Chairman of the National Human Rights Commission (NHRC), Dr. Chidi Anslem Odinkalu; President, Change Managers International, Mrs. Felicia Onibon and frontline politician, Josephine Anenih.
The delegation in a position paper presented and submitted to the Senate President demanded the deletion of Section 29(4)(b).
Last Tuesday, serving Senator and former Zamfara State governor, Ahmed Sani Yerima, accused in 2010 of marrying a 13-year-old Egyptian girl, forced the Senate to reverse a Senate vote to delete section 29(4)(b). Yerima protested the move as "un-Islamic" and in breach of Part I, item 61 of Second Schedule of the 1999 constitution as amended, a section that directs the National Assembly to steer away from Islamic matters.
Going by Section 29(4)(b), a woman or girl who is married, shall be considered to be of age-implying even a day old child, once married, shall be so considered, a provision (Section 29(4)(b)) the Senate's amendment committee proposed be deleted.
At a repeat vote, Yerima's demand was again voted out 60 to 35, but the section could not be deleted as constitution amendments require two thirds (73 members) of the 109 member Senate for a proposal to pass.
Mark on Wednesday explained the genesis of the scandal: "Why we (Senators) voted publicly was so that everybody will know the stand of every Senator on every issue. I think the problem is not whether we can delete this section 29(4) (b) or not. That is not the issue; it is whether we can get the number to be able to delete it. With all due respect, the entire Senate is being castigated because there was and there is still a complete misunderstanding of what the Senate had tried to do. We are on the side of the people, that was why we put it that we should delete it that was what the people wanted. We, in fact, are the first people that put the step in the right direction of deleting it. It didn't go through because of other tangential issues that were brought in on the floor of the Senate, total inconsequential issues, unconnected issues that were brought in.
"We wanted to remove it but it failed, we were a total of 101 Senators, 85 voted and I think about six or so abstained. There was hardly any dissenting votes but once it got mixed up with so many other issues, it didn't get the required 73 votes anymore. So, first of all, I think the castigation outside is done out of misunderstanding but because a religious connotation was brought into it, which is a very sensitive issue and you must agree with me that in this country, we try as must as possible not to bring issues that involves faith to the floor of the Senate and indeed the chamber, we keep religion completely out of it because what is good for a Christian is also good for a Muslim.
"The good of the country is for everybody and not for a particular religious sect. I think the bottom line is, when people get more educated, then we can do a re-think and probably, if the Senate agrees, go back and see whether we can get the required number once more, because that is the solution.
"Let me also talk to my own brothers and sisters who are Senators, who were probably blackmailed. That is the fact, because it is in the open that I cannot also hide it and nobody can hide it. They were simply blackmailed, and on that day, if they didn't do what they did, nobody knows the outcome or how the consequences will be today, because the people outside can say this man, you are Muslim and didn't vote for something that is of Islamic interest, because if we don't hit the nail squarely on the head, we may never get it right."
GECORN in its position paper insisted that the Senate owed Nigerians protection in deleting the contentious Section 29(4)(b).
"The Senate must remain impervious to emotional, religious reasoning, and focus on the aggregate social good which will protect and enrich the lives of half of the nation's population. We enjoin the Senate leadership to use every avenue within its rules of procedure to cause a revisit of the vote on Section 29(4)(b). The overwhelming reaction of Nigerians against the outcome of the vote on 16 July, 2013 is a clear and unequivocal indication that women, and indeed diverse and significant constituencies of Nigerians, have concerns for the specific and general implications of the decision of the Senate to retain Section 29(4)(b)," the group said.
Yerima (then 49) was in 2010 investigated over allegations he married a 13-year-old Egyptian girl at a Mosque in Abuja, sparking protests on its propriety and fear for the child's health.
The girl's parents are reported to have been paid a $100,000 dowry for their child.
The Senator told the BBC on April 2010 that he had done nothing wrong insisting that his fourth wife was not 13, but would not say how old she was.
He denied breaking the law but said he would not respect any law that contradicted his religious beliefs.