Pro-Amechi protesters in London get $7500 each…Reuters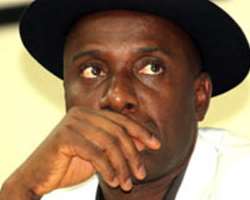 As a playback of the Westminster, London Protest by pockets of Nigerians and some hired Asians and North Africans two months ago, another group of Nigerians today carried placards on the street of London.
Precisely, Eighteen (18) Nigerians living in the United Kingdom, mostly Rivers State students who are on Government scholarships and some hired North Africans were Protesting this time, for Governor Amaechi's against the Nigerian Government.
These Young Nigerians where paid £4,000 (N1.04 Million) per person to appear at CHATHAM HOUSE in solidarity with the Governor.
The Protesters claimed that Governor Amaechi is the true face of Nigerian Democracy and they are solidly behind his struggles.
Amaechi's struggles includes his fight against PDP in Rivers state and Abuja.
The President, Mr Wike, Police Commissioner, Opposition Governors Forum, Mrs Jonathan, State Chief Justice, Local Government Chairmen, Some State Lawmakers and other group opposing his ambition to be a Vice President.
Reuters.