Bayelsa accuses Rivers of destabilation plots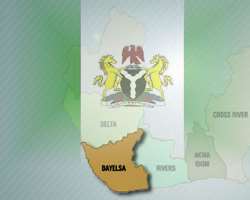 A top official of the Bayelsa State government has blamed neighbouring Rivers State for sponsoring the recent protest by pensioners in the state, saying it was part of a larger plot to destabilise the state.
In a swift reaction, Contacted, David Iyofor, Chief Press Secretary to Governor Chibuike Amaechi of Rivers State, dismissed the allegations as "totally irresponsible."
The official, who pleaded anonymity, said he had sufficient proof that agents of Rivers State government were planning to cause confusion in the Bayelsa State to equalize the crisis rocking the former.
According to the official, generating crisis in Bayelsa State, not only would deflect attention from Rivers State, but would also create the impression that President Goodluck Jonathan's home state is in turmoil.
The allegation coincided with a statement by Bayelsa State government today fingering unnamed politicians "from neighbouring states" for plotting to unleash mayhem on the state.
A statement signed by Mr. Daniel Iworiso-Markson, Chief Press Secretary to Governor Seriake Dickson, said It had uncovered plots by some desperate politicians…and their collaborators from neighbouring states."
Said the statement: 'In recent times, we have seen deliberate attempts by this group of desperate power seekers sponsoring some gullible graduates to take to the streets.
"They were also behind the recent protest staged by pensioners in the state. It is sad to note that they are now on a planned mission to incite unsuspecting youths to take to the streets to protest against the state government.
The government, however, warned, "As a responsible government, we will not sit down and fold our hands while these persons continue to threaten and undermine the peace and security that our government has worked so hard to put in place.
"Hence, we wish to sound a note of warning to all and sundry that government will not hesitate to bring down the full weight of the law on anybody that breaches the existing peace.
"We have it on good authority that this disgruntled politicians are going round doling out cash to recruit youths in the state to join in the dastardly act. It is also sad to note that there are plans by this so-called political leaders to re-open militant camps in the creeks and procure arms as part of their agenda to make the state ungovernable'
The statement advised youths in the State to take advantage of the conducive environment created by government to advance their potentials for the well-being of our state and desist from being used to breakdown law and order by desperate political forces within and outside the state."
The statement concluded: "To this end, Governor Seriake Dickson has directed security operatives in the state to be on red alert and deal decisively with trouble makers within the ambit of the law."