Civilian JTF Kills Policeman In Error As Boko Haram Scare Rocks Maiduguri Mosque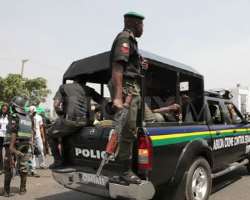 SAN FRANCISCO, July 21, (THEWILL) – Tragedy struck in Maiduguri, the Borno State capital, on Saturday, as a policeman who was pursuing a thief in the vicinity of the Al-Amin Daggash Mosque in the Government Reservation Area of the town and was mistaken for a Boko Haram member, was lynched by the youth vigilante group known as Civilian JTF.
A minor was also killed in the stampede that followed with many others sustaining varying degrees of injuries as the Muslim faithful who had gathered at the premises of the mosque to listen to Ramadan messages scampered for safety.
Eyewitnesses had claimed that worshippers at the mosque had to scamper for safety on hearing gunshots from a close distance as Boko Haram gunmen were thought to have attempted to attack the mosque in the GRA area at about 4:30pm.
The eyewitness said the purported gunmen were however driven back by the members of the youth vigilante group who were heavily armed.
However, the Joint Task Force (JTF) in Borno State, Operation Restore Order, while explaining the incident, said the gunshots in the vicinity of the mosque were not from Boko Haram but from a policeman who was chasing a thief.
A statement signed by JTF spokesman, Lt. Col. Sagir Musa, said "The Joint Task Force (JTF), Operation Restore Order, wishes to clear the air on what happened at the vicinity of Al-Amin Daggash Mosque in GRA Maiduguri on Saturday July 20, 2013. The incident was not a terrorist attack as no worship centre in Borno was attacked in recent time."
The statement noted that "It was an error of judgement by a policeman on duty that pursued someone who allegedly stole a tricycle and a bag of rice and drove off. The policeman was in mufti, wore NPF reflective jacket, pursued the alleged thief and fired two shots."
According to the statement, "The incident happened very close to Al-Amin Mosque when Ramadan preaching was on. The firing by the policemen attracted the attention of worshippers , including the youth vigilante that were within and around the mosque. As a result, there was pandemonium that led to the death of one minor while three others sustained injuries."
The JTF spokesman said further : "The vigilante lynched the policeman, burnt the Toyota Carina car (that the policeman was in) and the tricycle. The JTF patrol team rescued and took away the policeman, calmed the youths and restored normalcy to the area."