Mercy Johnson Finds New Lover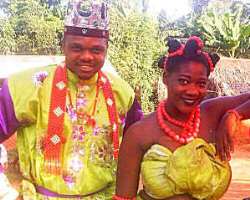 There is no other way to describe a secret love affair with a married spouse other than it being called infidelity. But for the relationship between two Nollywood acts, Mercy Johnson and Ken Erics, it is just for the love of what they love doing, acting.
In this new but on-going movie with a story of love and determination, the both lovebirds could not but accept the fact that the story line entails that they must see each other as lovers.
On the side of Ken Erics, it was a case of fighting till the end, under pressure and much risk. As one would ask, "what's the prize?" Just to return the love of his heart, Mercy Johnson.
The movie is directed by Ugezu J. Ugezu, and stars: Walter Anga and Chinwe Owoh. It is produced by Outstrip Movies.