Ray Of Hope For Widows As Wives OF Governors Convene Summit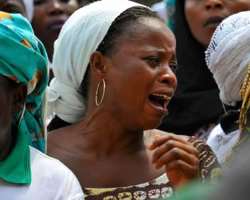 SAN FRANCISCO, July 18, (THEWILL) – Uyo, the capital of Akwa Ibom State was agog recently when the Wife of the Governor of that state, Ekaette Unoma Godswill Akpabio, played host to other Wives of Governors from the South East and South-South geopolitical zones who are Co-coveners of the 1st National Widowhood Summit in Nigeria.
The Summit, which was initiated by the wife of Cross River State Governor Mrs. Obioma Liyel-Imoke, who also is the Founder/Board Chair, Partnership opportunities for Women Empowerment Realization (POWER), was to commemorate the International Widows' Day.
The United Nations had designated in 2011, June 23rd every year as the official date for the celebration.
The event was to draw attention to the indignities and injustices millions of widows' experience in the country, hence the theme "Louder Please, A call for Increased Advocacy Action and Interventions on Widows Rights in Nigeria".
The Uyo summit also advocated practical steps that would curb and ameliorate those obnoxious traditional practices widows are subjected to due to the death of their spouses. Moreover it becomes increasingly glaring that an action plan must be formulated especially against the backdrop that only five states in the federation, namely; Cross River, Akwa Ibom, Edo, Enugu and Delta have passed the Right of Inheritance Bill.
The roll call at the event was impressive as every segment of society was represented. The occasion chaired by House Committee Chairman on Women Affairs, Senator Helen Esuene, had the Honourable Minister of Women Affairs and Social Development Hajiya Zainab Maina delivering a keynote address. The Minister made it abundantly clear that improvement of the situation of Nigerian Widows would largely depend on how Nigerians respond to the plight of widows. She further hinted that governments as well as civil society organization and the private sector have established interventions to address injustices meted to widows. Hajiya Maina intimated the august gathering that her ministry and MTN are partnering on widows' empowerment in Nigeria.
Other distinguished personalities including Speakers of the States Houses of Assembly, Chief Judges of the representative States, Commissioners for Women Affairs and revered Traditional Rulers of representatives' states as well as representatives of Widows Associations from those various states in the South-East and South-South regions participated in the event as well as delivering vital relevant papers.
The Widows Summit also provided opportunities for the wives of Governors to give account of stewardship of their activities on the interventions on widows' plight in their various states.
Papers presented at the event amongst many others include; "An Overview of Widowhood Issues in Nigeria" by the Guest Speaker, Barr. Hauwa Shekarua who is the National Vice President FIDA, His Majesty Etinyin Etim Okon Edet, Paramount Ruler of Bakassi and Chairman, Cross River State Traditional Rulers Council, spoke on "The Role of Traditional Institution in Upholding the Rights of Widows". He ended with an assurance on behalf of the royal fathers that "Old things have passed away and new things have come to stay".
His contribution elicited appreciation especially from the widows who honored him with a standing ovation.
Other mind touching papers included; "The Role of Church in Protection of Widows Rights", "The Role of the Legislature in Advancing Widows Rights", "The Role of The Judiciary in Ensuring Justice for Widows Rights Violation". Resource persons and some invited NGOs; Donor Agencies, Niger Delta Development Commission (NDDC) among others delivered goodwill messages.
Relishing her experience, the President of Widows Association Cross River Chapter, was optimistic that the Uyo summit would restore the dignity of widows and thanked the wife of Cross River State Governor, Barr. Mrs. Obioma Liyel-Imoke, for her GLOW initiative (an acronym for Giving Life Options to Widows), which she said, has helped them regain their self confidence.
An eighteen point Communiqué was issued at the end of the 2-day summit where observations were raised and palliatives recommended to ameliorate the present ugly situation as it relate to widows plight in the society.
Highlights of the communiqué include;

1. Men should write wills that state clearly how their property should be shared in the event of death, men should make effort to update their employment, insurance and other relevant records to reflect their spouse as their next-of-kin.
2. Government needs to improve on its policy environment to accommodate widows, the legislative arm of government needs to review the current laws protecting widows and make it more biting against offenders.
3. Our traditional rulers who are the custodians of our culture need to review all traditional practices that subject widows to indignities
4. Laws must be made to protect the rights of widows. The law should criminalize all forms of unhealthy and abusive cultural practices against widows in the country. The law will also safeguard the rights of widows to inheritance, including gratuity and insurance.
5. All relevant stakeholders should join forces in addressing the issues of widowhood by putting in place a development intervention for widows.
6. Opportunities should be provided for widows to acquire skills in vocations that guarantee their employment and income generation.
7. There is need for massive enlightenment of all stakeholders on harmful cultural practices and the need to address such practices. The enlightenment programme should include advocacy action as a collaborative effort between Office of Wife of Governor, Ministry of Women's Affairs, Houses of Assembly, civil society organizations, churches and traditional institutions.
8. All states of the federation should ensure that bills protecting the rights of widows is passed and enforced accordingly
9. There is need to establish transit shelter for widows in crisis and other vulnerable groups;
10. States should ensure provision of legal aid to protect widows' rights and create
11. Widows should be encouraged to form cooperatives and networks at both local and state levels. Such networks provide opportunities for peer learning, mentorship and advocacy for action among others.