Anglican Bishop Asks Buhari To Retire From Politics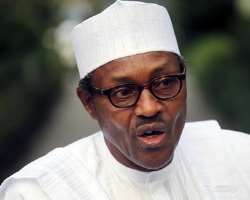 CPC LEADER, GENERAL MUHAMMADU BUHARI (RTD),
SAN FRANCISCO, July 18, (THEWILL) – The Archbishop of Jos Province of Church of Nigeria (Anglican Communion), Most Reverend Emmanuel Kana Mani, has called on the leader of the Congress for Progress Change (CPC), General Muhammadu Buhari (rtd), to retire from politics and stop making inflammatory statements that could set the nation on fire.
In a statement issued on Thursday, the cleric said the former military Head of State and CPC Presidential candidate has shown in recent time that he was an harbinger of violence and that his voice was heating up the polity.
"Let General Muhammadu Buhari retire from active politics and join the highly revered league of former Nigerian leaders such as General Yakubu Gowon, General Ibrahim Badamasi Babangida, Alhaji Shehu Shagari, Chief Ernest Shonekan, General Olusegun Obasanjo and General Abdulsalami Abubakar. These are highly respected by Nigerians.
"This group of our former respected leaders are the beacon of hope. They always intervene and call on Nigerians to live in peace and harmony with one another when the need arises. They preach non-violence and peaceful co-existence. I want General Muhammadu Buhari to join this enviable league and safe Nigeria from political tension," Archbishop Mani said.
Maintaining that Buhari has no monopoly of leadership quality, the cleric said : "Let those who had the opportunity of leading this country either as President or Governors or any other political office at any level remember that Nigeria is blessed with capable men and women across the six geo-political zones who can even do better if given the opportunity as no Nigerian is indispensable.
"It should be the sacred duty of the former leaders to raise, mentor and nurture younger leaders. Nigeria is not in shortage of manpower, or talented charismatic young men and women who can deliver dividends of democracy very efficiently and effectively."
Condemning what he described as the inconsistency of the retired General, the Archbishop said: "I recall that before the last presidential election, publicly, General Muhammadu Buhari(rtd.) told all Nigerians that after the 2011 elections, he would not vie for any election again.
"I also heard General Buhari when responding to a question, whether or not he would contest the 2015 general election. He said that the decision is not his, but that of his own party. This is a contradiction!
"I urge General Muhammadu Buhari (rtd) to respect what he voiced out publicly, with tears, rolling down his cheek, which bears natural witness to this declaration!,"