JTF Uncovers 124 Bags Of Marijuana In Maiduguri Church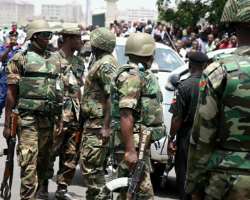 ....Relaxes curfew in Borno

SAN FRANCISCO, July 18, (THEWILL) – The Joint Task Force (JTF) in Borno State, Operation Restore Order, on Thursday, uncovered 124 bags of substance suspected to be Indian hemp (marijuana) at the premises of a Celestial Church of Christ in Maiduguri, the state capital.
The busting of the dangerous weeds came as the JTF announced the relaxation of the curfew imposed on Borno State for two hours as the curfew will now be in force between 11pm and 6am daily instead of the erstwhile time of between 9pm and 6am.
A statement signed by JTF spokesman, Lt. Col. Sagir Musa, said : "Based on information and intelligence, the Joint Task Force (JTF) Operation Restore Order, at about 9.30am on 10th July, 2013 raided the premises of a Celestial Church of Christ at House of Assembly Quarters, Pompomari area of Maiduguri metropolis.
"The raid led to the discovery and seizure of 124 bags of weeds suspected to be Indian hemp parked in three rooms at the premises of the church. The suspect, who is a pastor of the church, one Moses Edon, admitted knowledge of the content of the bags and confessed that the Indian hemp was brought to his church from Ondo State for safe keeping by a member of the church, one Mr. Segun Oni."
Preliminary investigation, according to JTF, revealed that the church had not been active for some time now and has been used as a safe haven for Indian hemp business from where some unidentified "partners in business" distribute the products to their customers in Maiduguri and environs.
The Task Force maintained that there is a correlation between illicit drugs and crimes in the state and implored all residents of the state "to report the presence and dealers of such products in our midst to security agencies."
On the relaxation of the curfew in the state, JTF said it had observed tremendous improvement in the security situation in Borno State and "for that reason, and in the spirit of Ramadan fasting, the Task Force finds it expedient to review the curfew timings imposed in the state.
"Accordingly, the JTF hereby inform the public that curfew in the state is henceforth extended from 11pm to 6am daily with effect from Tuesday 16 July, 2013," the statement said.
It however implored residents of the state to be vigilant throughout the Holy month and wished all the people of the state a peaceful and blessed Ramadan period.