SIBLINGS WHO MARRIED SELVES, ACCOMPLICE DOCKED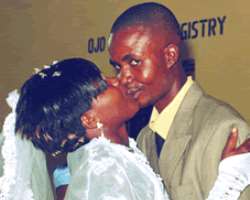 http://www.nigerianbestforum.com/blog/wp-content/uploads/2010/02/antoNvictor1.gif Fake couple
The unsavoury act of two siblings Saturday Sun reported last week married themselves to secure UK visas has started yielding fruits in its kind.
The Special Fraud Unit, Ikoyi has arraigned the two siblings, Anthonia and Victor Ayeye and their accomplice Kayode Olaniyan, a merchant Navy at the Ikoyi Magistrate's Court.
According to the Public Relations Officer, SFU, CSP Akan, the suspects were arraigned on a three-count charge of conspiracy, forgery and alteration.
Last Saturday we reported that Anthonia and Victor in a desperate bid to secure UK visa decided to be known and addressed as husband and wife. Anthonia and his elder brother Victor, who lives at Onobotubon Street, off Asho Street, Benin, marched to the Ojo marriage registry and were legally joined as husband and wife. This was done in a bid to convince the British High Commission (BHC) to grant them visiting visa since they can never meet the criteria needed to secure such visa.
With the aid of Kayode they were able to secure forged documents, which portrayed them as highly placed individuals in Nigeria. The expectation was that the forged document would guarantee them a visiting visa, and they applied to spend two weeks in UK. To further convince the BHC, they went along with their wedding photograph, especially where they were cementing their 'marriage' with a kiss.
Bubble however burst on February 16 when the High Commission that was not aware the 'couple' is related by blood discovered that the bank statement presented was slightly altered. They were arrested alongside the visa racketeer, Kayode who is alleged to have forged the entire document used for the act.
Victor had narrated that he was tired of struggling to survive in Nigeria that was the reason he quickly grabbed the opportunity when Kayode promised to assist them to travel out.
Anthonia, the wife of her own brother, explained that she did it to better her life and would not hesitate do whatever it took to get to the promise land. 'I am a stylist and my office is located at Onobotubon Street, off Asho Street, Benin. Victor is my blood brother from the same father and mother. We were introduced to Kayode by a family friend who claimed that he had assisted a lot of people to secure UK visa.'
Their rip-off games man, Olaniyan, was not satisfied with his pay in the Merchant Navy and he chose to go into visa racketeering to beef-up his monthly income. With his experience in the Navy, he was able to reproduce documents used to facilitate his clients' visa requests, which depict the applicants as having military background.
The three pleaded not guilty to the three counts and were remanded in prison custody for failing to satisfy the terms of their bail. The case was adjourned till March 23.