GOVERNANCE AND KANO/ABIA'S PARADIGM SHIFTS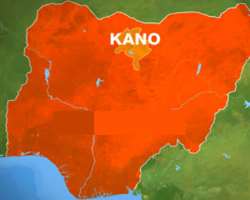 Chinua Achebe, the sage and philosopher who though has transited physically to the great world beyond but whose monumental intellectual heritage will live forever, has clearly told us in very plane language that Nigeria's problem is purely and squarely that of leadership since in his refined thinking, the Nigerian nation does not have problems with its climate or geography.
Conversely, one time information and communication minister Mrs. Dorothy Akunyili once introduced a sobriquet which says 'Nigeria- good people; good nation".
In the last fourteen years that we have experimented profusely with democracy and civilian rule, emerging facts have shown beyond the shadow of doubt that Nigeria gets the kind of leadership that it deserves just as it is pragmatically impossible for Nigeria to progress above the quality of our political leadership since even the latin adage says that nobody can give what he/she does not have (nomen dat quod non habet).
That the Nigerian nation-state is still bedeviled by multi-dimensional developmental challenges such as the crippling effects of mass poverty; youth unemployment; high crime rate and deteriorating state of basic infrastructure such as educational; health; and road network, goes to show that the quality of political leadership is poor in vision and policy implementation.
Both at micro and macro levels, Nigerians are witnessing varying degrees of developmental challenges even as certain political administrators have over time worked out meticulous and result-oriented panacea to peculiar problems of underdevelopment and poverty afflicting their people in their respective spheres of influence.
In this piece, I will take critical look at two approaches adopted by current political administrations in Kano, the North Western State and Abia, the South Eastern commercial gateway, especially in the last eight years.
In Kano State where a professional engineer who was once defence minister holds sway as governor (Rabiu Musa Kwankwaso), in the last six or so years, over five thousand youth selected from the local councils across political, religious and ethnic divides have all but being flown to different world capitals in Europe, America and the middle East to attend on state government scholarship scheme, different specialized and professional academic trainings in the fields of rare engineering courses and other sciences with a view to returning to help build vibrant educational and academic environment in Kano in the foreseeable future. Thus an observer can righty say that in Kano today, the youth are witnessing an upswing in positive governance paradigm shift.
In Abia state where Theodore Orji, a man who has worked for over three decades in different capacity in the State civil service and rose to become chief of staff to former governor Orji Uzor Kalu [OUK] before being railroaded to the prestigious office of governor, another kind of youth empowerment program has being launched with fanfare but with much emphasis on vocational skill acquisition and distribution of taxi cabs to youth for commercial activities as taxi drivers. This, to a lot of observers is surely a fast decline in good thinking and positive visioning process of governance and thus can be classified as a negative paradigm shift in governance.
Here lies the irony: Abia is in South East Nigeria which is ranked as one of the most educationally frontline states with some of the highest secondary school leavers seeking for admissions into higher academic institutions of learning.
On the other hand, Kano state is in the North West which is ranked as educationally backward and disadvantaged. While Kano state governor takes up the issue of comprehensive investments in the educational capacity building of thousands of its youth, Abia state on the other hand is paying much attention to the production of youth artesans including commercial drivers, carpenters and tailors and appretences in other vocational skills acquisition schemes.
In the last six years, the current Kano State governor has established what is considered as one of the best equipped science university which has attracted the attention of some very rich enterpreneurs of Kano state origin including the World's richest Black African Alhaji Aliko Dangote. But Abia State has failed within the same six years under review to properly fund the Abia State university and the derelict state polytechnic in Abia. Abia state polytechnic in Aba still looks like glorified secondary school even as students from poor homes are left to their design to fund their education without any form of scholarship to the best of my knowledge. [ May I be proven wrong].
Before delving more extensively on the two most astonishing ironies of governance in contemporary Nigerian society as represented by Kano and Abia state,s let me borrow some wise comments on youth proper educational empowerment from the versatile scholar and a reputable catholic Priest – Reverend father George Ehusani (Phd).
In the volume one of the beautiful and intellectually edifying book titled "Reverend father George Ehusani in conversation", Dr. Ehusani has these to say; "For a nation that sincerely aspires to be among the 20 most developed economies of the world by the year 2020, one would naturally expect to see a solid foundation for this aspiration by way of a vibrant educational infrastructure, a stable political system and workable economic blueprints that would be followed through with discipline and commitment. But such is not the case with us today. See the quality of professionals across the board-from Medicine to Architecture, from Auditing to Security, from the Legal Profession to Journalism. It is a tale of incompetence and ineptitude, corruption and mediocrity. We cannot continue in this way and hope to find our place in a fast changing global society."
Aware of the enormity of the challenges facing the nation's educational infrastructure and standard as rightly observed by Reverend George Ehusani, the current political leadership in Kano State has set out to build enduring legacy of good, qualitative and science-based tertiary schools for the academic and economic empowerment of the youth for a better tomorrow.
Governor Kwankwaso told a Nigerian journalist why his administration is focused basically on educational investment and anchored the reason on the sacred fact that education holds the key to radical development of the people and society.
"Without education it is very difficult for a society or country to develop. Education is number one and first agenda of our administration. We started right from primary education where we reintroduce the issue of free feeding of pupils in schools 5 times a week; we also give each pupil two sets of uniform. In fact we have spent billions of Naira in providing infrastructure and other materials. WithN8 billion, we were able to achieve so much especially in terms of building classrooms. We have over 1,800 classrooms with reasonable amount of offices. The schools are designed in such a way that in each block there are 4 classes and two offices. The teacher- student ratio is now reasonable. We are also converting some abandoned projects into training schools. Training and retraining our teachers is now mandatory."
On why his administration is spending public fund well to train Kano state youth in their thousands abroad in professional and specialized courses, the Kano state governor said the meaningful human capacity building of the youth holds the key to peace, stability and economic growth of Kano state now and in the future.

His words; "We are deliberately creating avenues for our citizens to acquire education in all fields of human endeavor owing to the fact that investing in knowledge brings about accelerated social change and sustainable technological progress".
He continued; "There some capacity buildings and skills that we believe are better acquired in some selected institutes abroad. We are therefore encouraged to send our people to go there to study. In less than two years, we have offered overseas scholarships to hundreds of Kano citizens to go for graduate and postgraduate courses, based on the conviction that the level of greatness of the state depends squarely on the level of education of its citizens".
"We have awarded special scholarship worth N1 billion or $6.7 million to 100 young graduates from the state, for an 18 months professional pilot training course at Mid-East Aviation Academy, Jordan. The programme is a watershed in the history of the state, is in line with the human capital development agenda of his administration", Kwankwaso stated.
He further stated that; " Our vision is to equip Kano citizens to face the challenges of globalization and to take advantage of abundant local and international opportunities to improve their lot. The foreign training will expose beneficiaries to best practices in aircraft management in addition to fostering global citizenship."
As the Japanese commercial advertisement slogan states that; " good thinking; good product", one is left with nothing but to applaud this academic revolution going on in Kao state.
In Abia State, the reverse is the case where critical thinking and visionary leadership attributes were lacking in the formulation of the so-called youth empowerment program by the current administration which has placed so much emphasis on production of commercial drivers rather than training the Abia youth in some rare professional and scientific fields that will turn them into World class experts who will not only bring pride to Abia State but will create comprehensive economic spaces for the active economic advancement of Abia state.
Does Abia governor wish that the state produces more commercial drivers and touts who may one day be forced by circumstances to work as commercial and private drivers of those Kano youth now being trained abroad as professionals by the Kano state government?
Here are the reasons given by Abia state government for ('dashing') awarding refurbished taxi cabs to Abia youth as part of youth empowerment program.
The Chief Press Secretary to Governor Theodore Orji, Mr. Ugochukwu Emezue said the programme was to engage the youth in the state with useful venture.
He said that the government embarked on the empowerment programme in order to secure the youth of the state, insisting that it has no political attachment.
Emezue who spoke with a Nigerian media said that the youth have done a lot for the state in the area of security.
"With this youth empowerment scheme which will be carried out in all the local government areas of the state, many people will be empowered and those who have been empowered will also employ others like conductors and others in their different areas".
"We want our youth to be celebrated like others in the transport industry, which is why we have given them vehicles to help start their own transport garages like others before them in that industry, and in future, they will say they started with Abia youth empowerment programme".
"The concern of Abia government under the leadership of Chief T. A. Orji is to see that youth of Abia get meaningful economic opportunities and as well stay out of crime".
My simple reply to Abia state government is that they should go back to the drawing board; put on their thinking cap and deploy public fund in training of selected Abia youth in some rare professional courses both home and abroad so they can compete favourably in the global market place with their contemporaries rather than being trained as commercial cab drivers in this increasingly globalized World.
I am of the belief that it is better to train ten medical doctors and pilots than give out ten thousand rickety and refurbished taxis to Abia youth because human capacity building by way of specialized professional courses is more enduring than few naira and kobo and the rickety vehicles that will give way sooner or later to the wear and tear of the weather. A word is enough for the wise. If Abia state government wishes, they can unleash their usual public relations half baked rejoinders rather than do the right thing for the benefit of Abia youth.
Written By Emmanuel Onwubiko

Disclaimer:

"The views/contents expressed in this article are the sole responsibility of the author(s) and do not necessarily reflect those of The Nigerian Voice. The Nigerian Voice will not be responsible or liable for any inaccurate or incorrect statements contained in this article."
Articles by thewillnigeria.com