Constitution Vote: Yerima Halts Senate Move To Outlaw Underage Marriage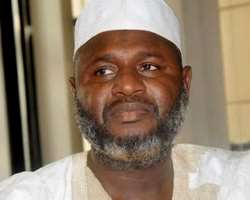 FORMER ZAMFARA STATE GOVERNOR, AHMED SANI YERIMA
ABUJA, July 16, (THEWILL) – Former Zamfara State Governor and serving senator, Ahmed Sani Yerima, who graced media headlines in 2010 for marrying an underage 13-year-old Egyptian, Tuesday literarily forced the Senate to reverse a clause in the revised constitutional proposal that would have outlawed underage marriage in the country.
Yerima mounted the Senate floor protesting, declaring severally that the move was "un-Islamic" and in breach of Part I, item 61 of Second Schedule of the 1999 Constitution as amended, a development that almost stalled the crucial constitution amendment vote on amended clauses.
Part I, item 61 of Second Schedule of the 1999 constitution as amended directs the National Assembly to steer away from Islamic marriage.
The contentious provision, Section 29, allows citizens who are of age to renounce Nigerian citizenship if they wish. For that purpose, the constitution says 18-year-olds and above shall be considered to be "of age."
In addition, a woman or girl who is married, shall be considered to be of age-implying even a day old child, once married, shall be so considered, a provision (Section 29(4)(b)) the Senate's amendment committee proposed be deleted.
At first voting on Tuesday, that recommendation was overwhelmingly approved, leaving open the possibility of final passage if accepted by the House of Representatives (via concurrence) and Houses of Assembly.
But deep into voting on the 31 amendment clauses, Yerima took advantage of a trend were Senators intermittently contested matters such as health, single term and the separation of the offices of the Minister of Justice from the Attorney General to protest why the section dealing with age of a married woman was deleted, describing the move as un-Islamic.
Yerima insisted on fresh votes which the Senate President, David Mark, turned down sparking a trade of words between the duo. Senator Danjuma Goje (Gombe) later joined the protest accusing the Senate President of applying double standards as presiding officer for the constitution amendment votes.
Again, Yerima threatened to stage a walkout in protest if fresh voting was not conducted on the contentious Section 29(4)(b).
The Senate President protested Goje's allegations saying: "I take serious exception to the allegation of me applying double standards. I have been very consistent. There is no point making a personal issue. I am not an expert in Islamic law. If it offends any region, then it is serious enough issue to be revisited. If it is the wish of Islamic scholars, we (Senate) will revisit it."
Yerima, backed by Goje insisted that under Islamic tenet, a woman is of age once married.
"The constitution says the National Assembly shall legislate on marriage except those under Islamic rites," said the former governor whose marriage to the teenager, triggered months of controversy. "Islam says once a woman is married, she is of age." Yerima said.
The Senate President however conceded to a second vote, saying he had to act due to the "sensitivity" of the matter since it concerns religion.
At a repeat vote, Yerima's demand was again voted out 60 to 35, but the section could not be deleted as constitution amendments require two thirds (73 members) of the 109 member Senate for a proposal to pass.
THEWILL recalls that Senator Yerima was in 2010 investigated over allegations that that he married an underage 13-year-old Egyptian girl at a Mosque in Abuja, a development that sparked protests and public criticisms leading to his arrest and prosecution by the NAPTIP.