Budget 2013: Revenue Shortfall Necessitated Request For Amendment, Says Okonjo-Iweala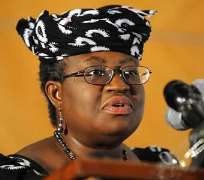 By Saint Mugaga, Abuja
SAN FRANCISCO, July 16, (THEWILL) – Coordinating Minister for the Economy and Minister of Finance, Dr. Ngozi Okonjo-Iweala, Tuesday, said the nation was losing 400,000 barrels of oil per day to oil thieves and pipeline vandals necessitating the request for amendment of the 2013 budget.
She said the loss, which amounts to about N160 million, is not healthy for the economy.
The minister, who appeared before the House of Representatives Committee on Appropriation, to give the status of the budget explained that the executive was seeking amendment to the budget and not a supplementary budget because it does not have the revenue base to finance a supplementary budget.
"What we are asking for very clearly is an amendment. We cannot ask for supplementary budget when we are having revenue shortfall; we don't even have the revenue base to spend more," she said.
Explaining further, the minister said there is shortfall in oil revenue as a result of 'quantity shock' and oil theft as well as drop in customs duties, saying this is a challenge to the implementation of the budget.
Okonjo-Iweala explained that in spite of this challenge, the implementation of the budget was moving on smoothly with N600 billion capital component released in the first and second quarters and a cash backing of N585 billion. She said the utilisation of the budget stands at 67 percent so far.
The minister said the economy was performing well with the external reserves at N47 billion, Sovereign Wealth Fund at $1billion and the external crude account at $5 billion.
Okonjo-Iweala also disclosed that the Federal Ministry of Finance on the directive of President Goodluck Jonathan has opened a special account with the Central Bank of Nigeria (CBN) for constituency projects. She said $50 billion has so far been deposited into the account.
She also disclosed that the Minister for Special Duties, Kabiru Tanimu Turaki, has been assigned to oversee the implementation of all constituency projects in the country and will henceforth certify all contracts.
The minister explained that all monies appropriated for constituency projects would be warehoused in the account pending the preparedness of ministries, departments and agencies (MDA's) to execute the projects. She said the president has directed that constituency projects be given priority.
It will be recalled that there has been a long drawn disagreement between the National Assembly and the Presidency over the 2013 budget. While the National Assembly is asking the president to send a supplementary budget, the executive prefers an amendment to the budget.