DAME OF SHAME AND THE REST OF US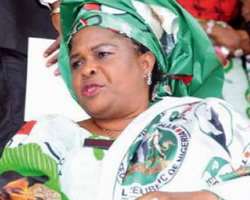 Following our independence from Britain, Nigeria descends into 53-year period of national deterioration. A consistent malady pattern develops, the people fall into abyss of civilization. Crises and chaos become the order of the day.
Over and over again, the cycle repeats itself. Nigeria falls into national cesspool of iniquity. The temperature of unimaginable cesspit grows colder.
The recent fracas orchestrated by the loyalists of Dame of Shame provides a graphic snapshot of the political and moral degeneration of a nation.
Chronologically, the event at Rivers State House of Assembly thematically forms a fitting conclusion to the National Governors Forum tomfoolery.
The political decline is further exacerbated and illustrated by Dame of Shame by raising her own army of hoodlums, consecrates the buffoons and thugs and injects her authority into the affairs of the Rivers State.
The actions of Dame of Shame and her henpecked husband is a grisly flashback to the scenes of political unrest that eventually led to the demise of our First Republic.
The video of the uproar of the Rivers House of Assembly is a pathetic picture of disoriented fools overcome by greed and power, fuelled by atmosphere of distrust and bewilderment.
Distraction is the enemy of direction. Obviously, Dame of Shame is the Sanballat – the Great Distracter – of our modern political history. She has deviated from her role to lead and influence and be a light to others especially our women.
She has become constrained in self absorption thus consumed with herself rather than her call to serve the people. In her pursuit of power and greed, she becomes even more obsessed with her own pleasure. Full of utter emptiness, she finally grew weary of her pursuits; she now tests her power and influence how far it could go – to unseat a duly elected governor. After all, devil finds work for the idle hand.
Evans Bipi, a violent and depraved jackal believed to be the cousin of Dame of Shame and the ring leader of the anti-Amaechi law makers became a ready tool for the Dame to hatch out her husband's political vengeance in River's State.
"Why must he be insulting my mother, my Jesus Christ on earth?" asked angry Bipi. "I have no mother. She (Dame of Shame) is my mother," said Bipi.
From the statement of Bipi, it is evident that Dame of Shame is a co-conspirator with her husband in a long running and resolute battle to run Amaechi out of Port Harcourt.
While the nation is still watching the constant reel of Boko Haram massacre, Dame of Shame is busy perpetrating her own reign of political terror in Rivers State.
With the likes of Dame of Shame, Nigeria is now a nation where the innocents are condemned and the criminals are acquitted. A nation of theatre of the absurd!
Considering her role as the principal instigator of the anti-Amaechi deviants in the Rivers State House of Assembly, she has proved that there is no disguise too difficult for her to assume.
On numerous occasions, through her unguarded, unwise loose talks, and by holding truth subservient to lies and falsehood, she has failed the test of moral credibility and rubbish the esteemed position of a first lady.
It is high time she humbled her pride, stitch together her much tattered and mutilated character and personality. Her character makeover is long overdue!
A First Lady should be a woman of influence. As a wife and mother, she is supposed to be a leader not because she tries to be one, but because of who she is.
Her assets should include but not limited to the following: a positive influence, a positive planner, helper to her husband, a friend and a trustworthy first lady of the people.
The American presidential system which we sheepishly imitate parades the finest of the fine First Ladies in history. Over the years, many unique women have wonderfully fulfilled the role of first lady.
It is not uncommon to see some of these women stayed in the background while others used their position to advocate for specific issues. Indeed, a few first ladies even played an important role within their husband's administration. It is not surprising therefore that the role of first lady has evolved over the years.
Eleanor Roosevelt was considered by many to be America's most inspiring and influential First Lady. Married to President Franklin Roosevelt in 1905, she was one of the first to use her role as first lady to advance causes she found dear to her heart.
She fought for New Deal, civil rights, and rights of women. She fought for equal opportunities for all. After the death of her husband, she was on the board of directors for the National Association for the Advancement of Colored People (NAACP).
She played a leading role in the formation of the United Nations at the end of World War II. She helped draft the "Universal Declaration of Human Rights" and was the first chair of the UN Human Rights Commission.
Jacqueline Kennedy, married to President John F. Kennedy in 1953 spent much of her time as First Lady working to restore and refurbish the White House. Once the renovation and decoration was complete, she took America on a televised tour of White House. She was revered as First Lady for fashion sense.
Rosalynn Carter, wife of President Jimmy Carter was one of the closest advisers to her husband. She was an advocate for mental health issues and became the honorary chair of the President's Commission on Mental Health.
Hillary Clinton was extremely powerful First Lady. She was involved in directing policy especially in health care. She was appointed the head of Task Force on National Health Care Reform. She influenced important issues such as women's and children's issues and played a leading role in the legislation on Adoption and Safe Families Act.
First Lady Michelle Obama is actively involved in the campaign against child obesity and in helping working and military families.
Time after time, Jonathan's presidency stung to madness in defense of the Dame of Shame. As expected, her spokesman Ayo Osinlu issued a statement castigating Nobel Laureate Wole Soyinka for calling the "domestic appendage" to order.
Part of Osinlu's statement reads: "It's an embarrassment to his throng of admirers and followers, that a sage of Prof. Soyinka's status, who used to be a gauge of public morality in this nation, would lend himself to a propaganda of high drive, to serve a governor who elected to launch into a river without applicable survival skills."
Osinlu's statement reveals him as an illiterate, sectarian, and a noisy controversialist. It shows him as a man without talent or education. Indeed, Osinlu is an example of a loathsome apostate from Aso Rock dungeon of renowned profligates and felons.
Osinlu with blasphemous boldness and recklessness almost beyond belief, has the effrontery to insult our Lion and our Jewel. It is men like Osinlu without knowledge of the truth; eyes blindfolded who are the real enemies of Nigeria.
WS we know, but who is Ayo Osinlu? For decades, WS has shown that he is a man of principle and integrity. A man of intellectual acuteness and moral strength who has the courage to avow his conviction to suffer for the truth. WS toiled as a slave in the galleys and rotted in the cells for fighting the bestialities of Nigerian governments.
While many Nigerians found safety in flight, WS continues to act as the as the conscience of the nation when others like Osinlu fell into decay, returned to their native wildness, intellectual dullness, and moral declension.
WS was right to draw our attention to the "domestic appendages" who flourished in corruption and looting thus making Nigeria a vast almshouse and a decaying nation ruled with dreadful tyranny. The selfishness of the thieves, I might add, grew more and more apparent and oppressive.
Osinlu in defending his paymasters will do anything to earn his pay even if it is required of him to compel children to look on while their mothers are raped.
It should be instructive that an administration punctuated by political satires of Dame and Joe would make Osinlu and other "domestic appendages" remember their follies much as a mirror reminds people of the way they really look.
Persecution serves to increase the number of witness for the truth!
WrittenBy Bayo Oluwasanmi
[email protected]

Disclaimer:

"The views/contents expressed in this article are the sole responsibility of the author(s) and do not necessarily reflect those of The Nigerian Voice. The Nigerian Voice will not be responsible or liable for any inaccurate or incorrect statements contained in this article."
Articles by thewillnigeria.com