Hamza Al-Mustapha Still Enlisted In The Army, Says Army Spokesman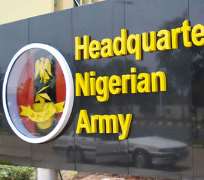 SAN FRANCISCO, July 15, (THEWILL) – Major Hamza Al-Mustapha, the once dreaded Chief Security Officer (CSO) to the deceased former military dictator, General Sani Abacha, is still an enlisted officer in the Nigerian Army, the Army's Director of Information said Monday, in a joint security committee press conference.
Al-Mustapha was acquitted last Friday in the murder trial of Kudirat Abiola, the wife of late Moshood Abiola, the presumed winner of the annulled June 12, 1993, Presidential election.
The Chief of Staff to the Director of Army Public relations, Colonel Joe Agim, who represented the Director, said the Army would review Al-Mustapha's case administratively in line with military regulations.
Al-Mustapha who has since been released from a Lagos prison arrived in Kano, his state of origin, over the weekend.