Jos kidnapping: STF rescues 8 hostages, arrest 3 suspects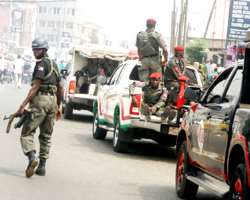 The Special Task Force (STF) Anti-kidnapping Squad in Jos on Saturday arrested three members of kidnapping gang and rescued eight victims.
The News Agency of Nigeria (NAN) reports that the squad arrested the gang leader and the owner of Chiwarna Hotel in Jos North where the victims were held hostage.
Capt. Salisu Mustpaha, STF media spokesman, said in a statement that the arrest was made possible through intelligence report received by the task force.
"Following an intelligence report to our anti-kidnapping squad, a raid was carried out on the hotel located at Zinaria Layout and eight victims were rescued.
"Preliminary investigations revealed that the victims were kidnapped at various locations and locked up in one of the hotel rooms in order to collect ransom from their relations. "
The spokesman said that the kidnappers did contact family members of the victims and requested them to pay various sums of money as ransom for their release before luck ran out of them.
He said the kingpin and the hotel owner were undergoing interrogation, adding
that investigation was on to track down the other members of the gang.
He stressed the importance of timely release of information to security agencies by the public.
The STF commander, Maj.-Gen. Henry Ayoola, urged the Muslim community to use the period of Ramadan to pray for lasting and sustainable peace in the country.
"On behalf of the officers and servicemen of the STF, I wish you a peaceful, fruitful and spirit-filled Ramadan,'' Ayoola said in the statement.  (NAN)