Ethnic, religious intolerance threat to Nigeria's existence, says Sambo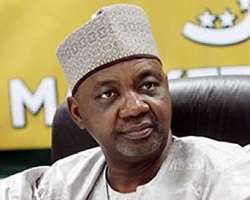 Vice-President Namadi Sambo on Friday said ethnic and religious intolerance were the greatest threats to Nigeria's existence.
Sambo stated this in Jaji during the graduation ceremony of Senior Course
35 of the Armed Forces Command and Staff College (AFCSC).
" The greatest danger to our collective security as a people and a nation lies in the peril of ethnic and religious intolerance.These twin evils, if not checked, are capable of threatening our corporate existence as one sovereign and indivisible nation."
He said the military, the police and other security agencies have a great role to play in thwarting the threat and ensuring peace and security in the country.
The vice president urged Nigerians, including military personnel, to shun ethnic and religious sentiments, embrace peace and tolerance for the benefit of the nation.
" You must therefore discourage such sentiments and encourage your men to view themselves as comrades in the pursuit of a common destiny.
Furthermore, you must continue to anticipate and reflect on the ideals that we all cherish as a people."
Sambo said the training, which drew senior military officers from 19 African countries, South Korea and the paramilitary would enhance "African brotherliness, integration and regional cooperation necessary for our collective security in Africa".
" Nigeria, has, once again demonstrated its ability to meet its national, regional and international operational level manpower needs in Command and Staff training at both single and joint services levels," he said.
He therefore stressed the need for the graduates to apply the skills and knowledge acquired in contending with future security challenges.
"We remain committed to the maintenance of international peace and security, and will continue to collaborate with other African governments to promote peace, stability and development in the continent.
" To this end, the nation would require your services as members of a protection force in multinational operations within the continent and beyond."
Sambo reiterated the commitment of the federal government towards ensuring that the Armed Forces, as well as other security operatives were fully equipped to address any security threat.
On his part, the commandant of the college, AVM Eko Osim said 157 officers participated in the the 49-week training, which focussed on command responsibilities, analytical and communication skills.
" The course is designed to equip the officers with the appropriate skills to function as Grade One Staff Officers and to prepare them for higher responsibilities up to and including the ranks of Colonel and its equivalent in the other services."
He reiterated the commitment of the nation's military authorities to empower its personnel serving within and outside the country, with relevant skills to enable them discharge their duties effectively. (NAN)