BETWEEN SPONSORED PULL-HIM-DOWN EDITORIAL COMMENTS & OBJECTIVITY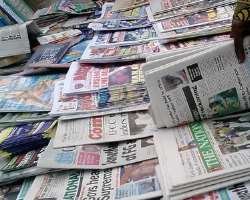 When in 2010, the Punch Newspaper showed one of its finest editors, Azubuike Isiekwena, the way out of the establishment, on the excuse that he honoured a press briefing invitation by General Ibrahim Babangida like other editors in Lagos/Ibadan axis; many informed Nigerians believed that Punch had been hijacked by reactionary forces and that with time it will be clear to all Nigerians.
In the past, informed Nigerians have always viewed Punch Newspaper as probably the only outfit that is thoroughly independent in news reporting. Its ownership structure is believed to be responsible for its independence. It is probably the only concern not owned by politician[s] at least before now. This writer can confidently say that Punch newspaper of today is either broke and desperately in need of money to stay afloat or it has been infiltrated by politicians ahead 2015 elections.
On Monday, June 24, 2013, in its editorial corner with the caption: Okiro, PSC, and our flippant Senate, Punch took mischief to all time high, in the process, betraying what is already known in enlighten circle, political hijack. By rubbishing the Senate as an Institution, the Person of Mr. President, and then tactically setting agenda for the House of Representatives on the need for "thorough oversight of the PSC and the Nigeria Police"; nobody needs rock-science to know where Punch is coming from. The questions here are: Is Punch trying to tell informed Nigerians by its editorial comment that the Senate did not perform its oversight function when the name of Sir Mike Okiro was submitted to them for clearance? Is Punch also implying that for one month the Senate got receipt of Okiro's nomination letter from President Goodluck Jonathan, it did not embark on any background check on Sir Mike Okiro?
To start with, it is Senator David Mark led sixth Senate that sought the help of Sir Mike Okiro, then the Inspector General of Police to investigate and possibly prosecute some characters in Nigeria Deposit Insurance Corporation [NDIC]. The Alhaji Ganiyu Ogunleye led NDIC probably sensing that no nonsense Okiro will not shield anybody found wanting in NDIC scam, devised a lame strategy to embarrass him by concocting falsehood against his person. On the eve of Okiro's departure as the IGP, NDIC came up with an allegation that a certain company where Okiro had interest owed a distressed bank. Senate investigated the issue and found out that the company in question belongs to Okiro's late wife, Hera Okiro. The company had since obtained judgment against NDIC on the matter. If Punch was not commissioned to produce its editorial comment, they should have obtained this fact. Again, we ask: Can't any member of Mike Okiro's extended family engage in business while Okiro was in active service? Or is Punch saying that once somebody is in public service, the law forbids any member of his immediate or extended family from doing business?
While addressing the press on his hundred days in office, the IGP as he then was told the press that while engaging the criminals in shootouts, the police killed a specific number of robbers, and the criminals too, killed a specific number of police men. This statement some misguided and mischievous elements painted to mean extra judicial killing under Mike Okiro's police headship. They decided to ignore the fact that in the exchange of fire with robbers, police officers died as well. To, them, the life of policemen amounts to nothing.

Suddenly Punch has elevated the view of Lagos lawyer Femi Falana as the final authority in Nigeria. But what Punch fails to understand is that Femi Falana whose view is sacrosanct to it belongs to a political party. Since it could rely on the sense of judgment of Femi Falana despite been a member of a political party too, why then should it not believe Okiro's sense of judgment as he tries to reposition the police? In any case, is Punch not aware that another Lagos based lawyer, Mike Ozekomeh, had educated Femi Falana on his view on the Constitution and Mike Okiro's headship of Police Service Commission [PSC]? Is it a case of selectivity in what to believe? Why should Femi Falana accuse somebody of potential bias in the discharge of his duty on the ground that he is a member of a political party, and expect a rational mind to take him seriously when it is a well known fact that he is a member of political party as well?
Surely, Sir Mike Okiro is not the target of Punch editorial; their real intention is to portray the administration of President Goodluck Jonathan in bad light; commissioned editorials on Dame Patience Jonathan which Punch is an active participant, is also one in the series of these attempts. The irony here is that their paymasters are the same people that are now shouting to high havens over GEJ administration's undemocratic tendencies. They are also in the habit of calling Mr. President a budding dictator, and regard themselves as apostles of due process and rule of law. But in Sir Mike Okiro's case, applying rule of law and due process is not necessary; it is a shame Punch is involved in this shenanigans.
Written By Emeka Oraetoka
[email protected]

Disclaimer:

"The views/contents expressed in this article are the sole responsibility of the author(s) and do not necessarily reflect those of The Nigerian Voice. The Nigerian Voice will not be responsible or liable for any inaccurate or incorrect statements contained in this article."
Articles by thewillnigeria.com