Emergency Rule: House Moves To Rescue Displaced Persons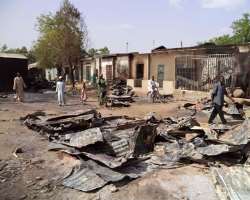 ABUJA, July 11, (THEWILL) – The House of Representatives, Thursday, urged the Federal Government to urgently address the plight of internally displaced persons in Adamawa, Borno and Yobe States affected by the state of emergency.
It equally urged the National Refugees Commission (NRC) to take proactive measures to ensure that the rights of the persons in the affected states were protected.
The resolution was the outcome of the adoption of a motion sponsored by Hon. Abubakar Wambai (PDP-Adamawa) which was adopted without debate.
In his lead debate, Wambai said the United Nations, in its report on the affected areas, put the number of internally displaced persons who have been forced to flee to Niger, Chad and Cameroon at 6,000.
He said even though the military seems to be operating by rules of engagement, the people still live in fears.
According to him, the situation was worsened by the complete disruption of mobile telephone services causing economic and social difficulties.
He said unless the trend was nipped in the bud, the situation in the affected states would degenerate to an alarming proportion.
Meanwhile, the House has urged the Minister of Environment to ensure that a temporary measure was taken to repair the cut-off portion on Oron road, in Oron Local Government Area of Akwa Ibom State.
It urged NEMA to send relief materials to the more than 200 persons displaced by the landslide and assess the level of damage in order to compensate them.
This resolution followed a motion on a major landslide in Oron moved by Hon. Robinson Uwak (PDP-Akwa-Ibom) which was adopted.
According to him, the landslide displaced more than 200 persons and destroyed property worth millions of Naira.
He said economic activities in the region have been disrupted due to the landslide.