IG orders investigation into Rivers assembly fracas, Says Police Neutral In Rivers Crisis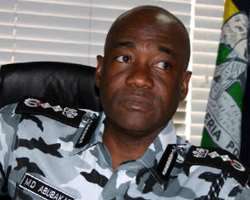 The Inspector-General of Police, Mr Muhammed Abubakar, has ordered investigation into the ongoing crisis in the Rivers House of Assembly.
The News Agency of Nigeria (NAN) recalls that some members of the assembly were on Tuesday engaged in fracas, in the presence of the State Governor, Mr Rotimi Amaechi, and some senior police officers.
Abubakar, who was fielding questions from State House correspondents in Abuja on Wednesday, exonerated the state commissioner of police of any blame in the crisis.
He said that the police were at the premises of the Assembly on official duty.
He, however, said that the crisis was being investigated by a Deputy Inspector-General of Police (DIG), from the Force Headquarters, Abuja.
'We are investigating that matter and whoever that is found wanting would be sanctioned.
'I have sent a DIG in charge of operations, he is in Port Harcourt and he will give me brief on all the happenings and the action taken by police in Rivers State and necessary action will be taken against anybody who has done anything stupid.'
The IG also dismissed the insinuation that the police took side in the crisis.
He also described as ''untrue', the allegation that the police on Wednesday tear gassed Rivers State Government House.
'You are free to make allegation, but the allegation must be substantiated.
'I have not gotten any written documentation that accused the commissioner of police of one particular offence, till today.
'No reasonable commissioner of police will go and tear gas government house, it is not true.'(NAN)