House Probes Union Bank Over Alleged Infractions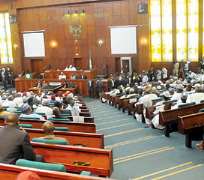 ABUJA, July 09, (THEWILL) - The House of Representatives, Tuesday, mandated its Committee on Banking and Currency to investigate the operations of the Union Bank of Nigeria Plc under the management of Mrs. Funke Osibodu and report to the House within 21 days.
This followed a motion of urgent public importance sponsored by Hon. Akpan Micah Umoh (PDP, Akwa Ibom) which was adopted by the House.
The lawmaker had, in the motion, alleged that the bank was engaging in unwholesome practices detrimental to the interest of shareholders during the era of Osibodu as its Managing Director.
He said "In the face of bare facts that the Central Bank of Nigeria (CBN)'s intervention in the UBN in 2009 was premised on the charges of inadequate liquidity, poor corporate governance and inadequate capital,the chief executive of the same financial institution would embark on a voyage along the same path of ruin intended to be cured, including but limited to skewed book-keeping to create the false impression that the bank was run down."
Umoh also accused Osibodu of "failure to write back to banks profit and loss account loans recovered from Transcorp and Global Fleet Oil & Gas, asset stripping by fraudulent reduction of book value from N79.22 billion to N62.11 billion, manipulating Assets Management Corporation of Nigeria (AMCON)'s purchase of alleged non-functioning loans to facilitate the giving away of the bank at a paltry N48 billion when it still had a value of over N238 billion, unprecedented jumbo pay to directors, and unaccounted transfer of $500 million through UBN UK Plc to another foreign bank."
Meanwhile, the House also passed a Bill to amend certain sections of AMCON into second reading. The Bill, among other things, is seeking for fund that could save banks from sinking in the future.
The Bill,which is entitled: 'A Bill for an Act to Amend Sections 2, 16(5), 34(1)-(2), 35, 46(2), 48, 60, 61 and 62 of the Assets Management Corporation of Nigeria Act, 2010', was referred to the Committee on Banking and Currency.