JTF Kills Three Suspected Boko Haram In Maiduguri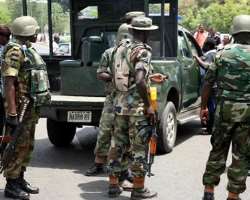 SAN FRANCISCO, July 03, (THEWILL) - It was a deadly end, Wednesday, for three suspected Boko Haram insurgents who disguised as women in their bid to plant explosives in a police station in Maiduguri, the Borno State capital, as they were killed by men of the Joint Task Force (JTF).
The suspected suicide bombers were said to have been dressed in hijab, the Muslim women garment, covering their faces, to prevent proper scrutiny, as they pretended to be on a visit to the police station.
But luck was not on their side as the three suspected Boko Haram members armed with AK47 rifles and rocket propeller grenades were repelled by JTF as they tried to launch an attack on Ibrahim Taiwo Police Station in Maiduguri.
The incident, which took place at about 2pm , was said to have caused pandemonium in the area as people scampered for safety.
The terrorists were said to have been busted through an intelligence report on which security operatives were placed on alert before the terrorists came in.
A security source said upon getting the information that some terrorists were planning an attack on the station, security operatives were deployed to repel the attack during which the terrorists were killed.
"It was after we killed the three of them that we realised that all those killed are men but in women dresses," the source said, adding that immediately after the shooting, the entire roads leading to Umarari, Federal Low Cost, and Jajeri wards were cordoned off for over two hours by the JTF to prevent further attacks.