House Intervenes In Amaechi, Commissioner Of Police Row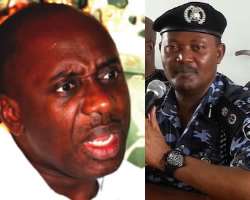 ABUJA, July 03, (THEWILL) – Worried by the ongoing altercation between the Rivers State governor, Hon. Rotimi Amaechi, and the state Commissioner of Police, Mr. Joseph Mbu, the House of Representatives, Wednesday,directed its joint Committee on Police Affairs and Justice to liaise with the office of the Inspector General of Police, the Police Service Commission and the Rivers State Government to work out an amicable solution.
The committee is expected to turn in its report within one week.
The decision to wade into the crisis followed the adoption of a motion of urgent national importance, sponsored by Hon. Peter Edeh (ANPP,Ebonyi), entitled, "Need to avert descent into anarchy in Rivers
state".
Leading debate on the motion, Edeh noted that Rivers State is one of the foremost oil producing states and that "a breakdown of law and order in the state could have severe negative consequences on the socio-economic stability of the nation."
He observed that, "in recent times, various national dailies as well other print and electronic media have consistently reported a breakdown in the working relationship between the governor and the Commissioner of Police in Rivers State."
The lawmaker also expressed worry that "the situation has so deteriorated to the level of the governor accusing the commissioner of police of deliberately undermining the security of lives and property of the people of Rivers State while the Police Commissioner accused the governor of being power hungry, a tyrant and dictator, statements which confirm that their working relationship has broken down irretrievably."
According to him, the existing situation in Rivers State is not only untenable but constitutes a grave danger to peace, security and orderliness in Rivers State and if left unchecked would not only constitute a bad precedence but could lead to a total breakdown of law and order and threaten democratic institutions in the state and beyond."
Edeh noted that "the Inspector General of Police has thus far refrained from addressing this matter or commenting on it publicly."
The Deputy Speaker, Hon. Emeka Ihedioha, who presided over the plenary , in his ruling on the motion, said it was a straight forward prayer, which does not require further clarification and thereafter approved it.
it will be recalled that there has been a misunderstanding between the governor and the commissioner of police, both of whom have virtually resorted to trading words in the media.
The Commissioner of Police was recently reported to have accused the governor of being power hungry and a dictator, while the governor also dare the police chief to shoot him.