2015: MOSOP Demands Rivers Governorship Seat For Ogoni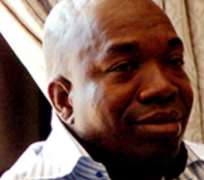 Ahead of the 2015 general elections, the Movement for the Survival of the Ogoni People (MOSOP) said it would not accept anything less than the governorship position of Rivers State.
MOSOP, umbrella body of the Ogoni people frown on what it termed the continued marginalization of the ethnic group, especially the lack of fair representation at the national and state levels.
A communiqué  signed by the President of MOSOP, Mr. Legborsi Soro Pyagbara in Port Harcourt on Monday said it came out with the position after  the body's national congress in Bori, headquarter of Khana Local Government Area, where it unveiled the 'Ogoni 2015 Project' aimed at ensuring that an Ogoni indigene occupied the seat of government in Rivers.
Pyagbara, called on political parties in the country to provide an opportunity for a person from Ogoniland to occupy brick house, the seat of power in state come 2015.
'The congress decried the marginalization of Ogoni occasioning our denial of fair representation at the national and state levels. The marginalisation has regrettably deprived our berth at the highest level of government in Rivers State.
'Congress resolved that come 2015, Ogoni will accept nothing less than the position of the governor of Rivers State,' the communiqué read.
It therefore called on all political parties in Nigeria to provide that opportunity for Ogoni aspirants to become candidates to the office of the Governor of Rivers State as 'Nigeria did for the Yoruba nation in 1999, occasioning the emergence of former President Olusegun Obasanjo as President of Nigeria.'
MOSOP however, condemned the comments credited to the Rivers State Chairman of the Peoples Democratic Party, Mr. Felix Obuah, jettisoning the zoning of the governorship position in the state among the three senatorial districts.
It said recalled that the zoning arrangement had produced Dr. Peter Odili (Rivers South-West), Mr. Celestine Omehia and Mr. Rotimi Amaechi (Rivers East), adding that the next senatorial district (Rivers South- East) has not benefited from the zoning arrangement.
The body warned that Ogoni people may be compelled to withdraw their support for the PDP, if it failed to concede the position of the governor to them in 2015.
On the UNEP report, the movement decried the attitude of the Federal Government on the implementation of the United Nation's recommendations for the restoration of Ogoni environment two years after the report was released.