Nigeria: A Murderous Republic And Country In War Against Her Citizens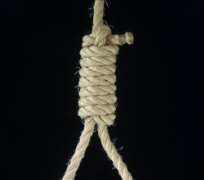 (Denver, Colorado, USA, 29th June 2013)-The Monday, June 24, 2013 public execution of Citizens Richard Igago, Chima Ejiofor, Daniel Nsofor and Osaremwinda Aigbuokhian on the executive orders of the Edo State Governor, South-south, Nigeria, is not only shocking but also savagely. Since June 1999, when the civil rule was restored on the polity, over 58,000 citizens have been killed outside the law in the country. The latest public execution of the four controversially processed convicts has brought the country thousands of years backward from being a member of the comity of civilized countries and human rights respecter countries. Nigeria is steadily descending dangerously into the abyss of savagery and cannibalism. The country now earns notoriety as a country not in war, but in war. She now records one of the highest global incidences of unlawful killings per month with monthly average of 200. When a political system is corrupt and weak to safeguard lives and property, incidence of safe-help method in inter-personal and group's disputes grows astronomically dangerously-says Emeka Umeagbalasi today in Denver, Colorado, USA. A modern country that engages in public execution of its citizens whose actions are said to be in conflict with its criminal law, whether anachronistically or globally blended, is not only a direct descendant of the butchery of the old, but also instills homicidal militancy in the psyches of its civil populace to slaughter at will even in mere dissent verbal exchanges-further says Emeka Umeagbalasi.
Factually speaking, over 1,400 Nigerian citizens have been killed since January 2013; a period of six months. It has become a routine in the country to count not less than 200 unlawful deaths at every month end. From our empirical records, over 200 citizens were killed in May 2013 and in this month of June, 2013, the local and international media have reported over 200 more unlawful deaths including the communal killing of between 32 and 48 citizens on 27-6-2013 in the Langtang areas of Plateau State, North-Central Nigeria. Nigerian government's reported excuses of using public execution of condemned law breakers to decongest the prisons or using same to reduce crimes clearly show how empty her security and justice policy makers and administrators are in matters of public governance, security, rule of law and accountability to the citizenry. They also remind us of similar infantile and barbarous reasoning canvassed by the promoters of monstrous vigilantism in the Southeast States of Anambra and Abia, which were repositories of the killer-Bakassi Boys that massacred over 5,000 citizens including the chairman of the local body of lawyers and his wife. It is an incontestable fact that 95% of Nigeria's social problems or challenges are politically generated. The highest generators of violence in the country are her political leaders.
Comparatively speaking, over 2.3million jailed lawbreakers abound in USA; mostly jailed in connection with immigration, drug/alcohol and sex violence offences, yet they are being counseled, rehabilitated and substantially integrated into the American society so as to turn to new leaves and break laws no more. In Nigeria, less than 10% of her 53,000 prisons inmates is jailed lawbreakers, while only about 1000 of them are condemned lawbreakers. Up to 90% are awaiting trial inmates made to suffer from the failed and outdated justice administration or system. Revolutions and innovations have also characterized today's justice administration or system globally. Court rules and other criminal and civil statutes are routinely upsized or downsized including expansion of sentencing and punishment options and management. To this effect, there are prisons labour, industry, community service, paroling, counseling & rehabilitation, suspended sentencing or jail holidays, foster homes, amnesty or pardoning, commutation, sporting, volunteerism, to mention a few; designed for today's prisons inmates. The ultimate goal of modern prisons is rehabilitation; whereas that of the Stone Age was death for death, stealing for stealing and spiting for spiting.
Therefore, the traditional concept of sentencing by death is confined to the dustbin of the Yore. It is shocking that till date, the prisons facility management in the country is monopolized by one out of the country's three tiers of government-federal government. While each of our senators crookedly smiles to the bank at every month end with N29.4million (over $190.000) in the form of allowances, which also includes a fraction of monthly basic salary and outrageous monthly newspaper allowance of N1.24million (about $8.000), in this era of internet; most of the country's federal criminal and civil laws including the Nigerian Prisons, Police and Evidence Acts are begging for legislative upgrade with no hopes in sight. Most of the country's criminal and civil laws including court rules were created in the 30s, 40s, 50s, 60s and 70s. The Police Act, for instance, has not seen major changes since its creation in April 1930. The Prisons Act was created in 1972.
Intersociety feels deeply pained over the rising incidence of unlawful deaths in Nigeria including State sanctioned murder and killings emanating from the failed justice system. There are available records showing that dozens of condemned inmates have in recent years, if not months, been granted pardon in the country under the Prerogative of Mercy constitutionally exercised by Mr. President, governors and strategic heads of the judiciary. It therefore surprises us as what interest the Edo Governor has in sanctioning the execution of the four incarcerated citizens. We have it on good authority that the fifth person who was to be executed alongside four others, but got spared, temporarily-Citizen ThankGod Ebhos, is kept for execution in a later date soonest. Three out of the remaining four condemned inmates waiting for execution are Citizens Cyracius Ogidi, Agbonware Omorogie and Apostle Igene. Five other condemned inmates who spoke to Intersociety yesterday complained bitterly of starvation and denial of food and water for four days. This is a gross violation of national, regional and international provisions on the fair treatment of prisoners.
It is recalled that on 18th day of April, 2013, our leadership issued a public statement, captioned: Amnesty for Eight Condemned Prisons Inmates in Edo Nigeria: A Call for Urgent Action; informing the world particularly the leaderships of Amnesty International and Human Rights Watch based in UK and USA respectively, through their researchers on Nigeria, about the imminence of the public execution of the eight Benin prisons inmates. Four out of the eight are now dead. Sadly, the two world respected rights groups did little or nothing concerning the urgent appeal, except belated statement of condemnation. They neither acknowledged our urgent call nor responded swiftly which would have possibly saved the lives of the executed citizens. Their enormous quick intervention global advocacy arsenal motivated us to write them.
It is sad and unfortunate that Nigeria, through her political leaders, has chosen a path of seemingly intractable backwardness in the global scheme of things including human rights, economic management and security, to the extent that the first African born US President skipped the country in his African tour itinerary. The other day, it was some defaced characters wearing parliamentary gowns that shocked their fellow country men and women with unpardonably falsified report on Ezu River massacre. The barefaced falsified report has exposed the mercantilization of legislative oversight civil inquiries in Nigeria and hijacking of criminal investigation by same. For us in Intersociety, we are least surprised having ignored from the beginning the shambolic exercise because of not-good characters behind it. The nexus between the provocative legislative Ezu River report and the public execution of the four citizens is incontestably linked.
Signed:
Emeka Umeagbalasi, Chairman of the Board
08033601078, 14143937972
[email protected]