FOUNDATION FOR CREATING A NEW BEGINNING (2)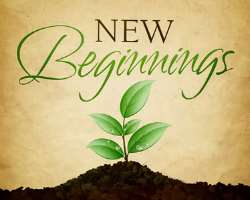 The God factor: "In the beginning God…" (Genesis 1:1). Life has no meaning without God, because until He stepped in, there was neither a beginning nor was anything created. Everything was void, dark and in confusion, but as soon as God stepped in, heaven and earth began, everything was formed. You need God to give form to your life. You need Him to breathe life into those dead issues of your life. God is not 'a' factor for your success, God is 'the' factor for your success, because Jesus said, "…Without me you can do nothing " (John 15:5). Which also implies, "With me you can do all things?" That is why Apostle Paul says, "I can do all things through Christ which strengthened me" (Phil. 4:13).
This series is based on Bishop David O. Abioye's book entitled: "Creating A New Beginning". Psalm 127:1 says, "Except the Lord build the house, they labour in vain that build it." So, God is the foundation for a new beginning. All the labour of man is futility without God's input. You will make no mark in life until God has put His mark on you. You will have no effect until He has affected you. You can never impact your world until God imparted you, neither can you be made until He has made you (Matt.4:19). The new beginning of success that you desire is only guaranteed if you put God first in your life. If you are a pastor, stop trying to form a church on your own. Church is not formed; God is the builder of His church. He said, "I will build my church, and the gates of hell shall not prevail against it" (Matthew 16:18). The reason my wife and I enjoy a great level of peace in our home is because God is our foundation. We put Him first, His Word is our corner stone, and so we can't but have a peaceful home. When you make God your beginning, you never lack a colourful destiny!
Everything you seek to build without God will need to be rebuilt, because we are told in Hebrews 3:4 that, "…He that built all things is God." The reason many lives, businesses and marriages crumble over and over again is because God is not there. The absence of God is the reason for destruction. You cannot have a good end except you have a good beginning and you cannot have God as your beginning and not have a good end. He is Alpha and Omega, and when He begins with you, a glorious end is guaranteed. Most great men today did not have capital investments when they started but they had God.
Some didn't even go to school but they went to God. When you stay with God you become brighter than the best academicians of the day. Get God and you will get a new beginning that is secured. Dr. Morris Cerullo, a famous worldwide evangelist, as a young boy was literally abandoned in an orphanage. But one day he met a woman whom God sent into that orphanage and that encounter turned his life around. The woman led Morris to Christ and gave him a Bible to read. When the authorities discovered, she was thrown out of the orphanage for trying to 'polute' their Jewish traditions and Morris was asked to make a choice between keeping the Bible and remaining in the orphanage hall with the pleasures and food it had to offer. He made a choice to keep the Bible and turned his back on the orphanage. He left the place with only the shirt on his back and no promise of food or shelter anywhere. But today, by the grace of God, he is an international evangelist.
Another great man of God, Archbishop Benson Idahosa, had one of the most outstanding preaching ministries in Africa even though he had no formal education. The time he would have been in school, he was forced to farm for his uncle in order to guarantee his feeding and shelter. Yet that did not stop him from finding a way out of obscurity into limelight because of his dedication to God and His Kingdom. Before everything we see here on earth ever existed, God was first in existence. So, if you must create a new beginning you must get God first. Success in life does not begin with money, it begins in God, and He is your capital.
If you don't have God, I don't care how much money you have, you will not go far. When you are linked to the right source your resources will certainly be guaranteed. Make God your source and you will never lack spiritual and material resources for a new beginning. The reason many people are frustrated in life is because the things and the people they trusted in have disappointed them. Those who considered their money position and connections as all the security they need for their future have suddenly found themselves completely stripped naked, with nowhere to hide and nothing to hold. So, they have come to the conclusion that there is no more hope for them, because they were connected to the wrong source.
If you want to create a new beginning you must look up to the Almighty God. He is only one who has what it takes to help you overcome every circumstance and to succeed in life. No matter what is happening in the world, those who are connected to God have a guaranteed future. He said in Jeremiah 29:11, "For I know the thought that I think toward you… thoughts of peace, and not of evil, to give you an expected end". The NIV translation renders "expected end" as "… a hope and a future." Mighty men are made by the Almighty God. You can't be connected to Him and remain a dwarf in life. He is the Most High God, so those who are joined to Him will always end up in high places. When you are connected to Him, He takes you up above the circumstances of life and makes you rule and reign while others are suffering in despondency. You can make a firm decision right now to stay connected to the Almighty God, and you will be sure of a new beginning and a new life of productivity and success.
He is your link: And God said, Let us make man in our image, after our likeness: and let them have dominion over the fish of the sea, and over the fowl of the air, and over the cattle, and over all the earth, and over every creeping thing that creepeth upon the earth. "So God created man in his own image, in the image of God created he him; male and female create he them".(Genesis 1:26 – 27). Who made man? You must find an answer to this question to be able to appreciate yourself as a person. Knowing who you are in an awesome discovery that will forever break every chain of stagnation in your life. You need to know your roots so that you can reorder your life and expect the right kind of fruits. You are not made by your parents; you only came by genetic order. You are not made by the society either. That means the conditions under which they operate have nothing to do with your destiny. God said, "Let us make man in our image. "That is your link. It makes me feel important about myself; that I have a link with the Almighty God. I only came through man, I am God's product, I don't operate by luck, and I am a child of destiny!
Your link determines the extent to which you go in life. Most people are limited because they have little or no understanding of their link with the unlimited God. They make the mistake of thinking that men are made by education of connections. Thank God for education, but it is not the maker of men. God can use any man to help you, but He is careful enough not to put your destiny in the hands of any. When He said, "Let us make man in our image". He meant to say, "Let us give him kind of unique life and uncommon abilities." All other things were made from the ground, but man was made from God. This is why I have never bothered to find out what anybody thinks about me, because it is completely irrelevant. It has nothing to do with my making. People may feel good about you, but that doesn't mean that you will rise in life. God is the maker of men, because He is the origin and the beginning of man. Everything in life functions according to its roots. No matter how great you are, if you uproot a flower and put it in your pocket, it will die because it didn't originate from your pocket so your pocket does not have the ability to sustain its life.
No matter how much you love fish, if you put it on your bed, it will die. Fish belongs in the water, that is where it came from (Genesis 1:21). In the same way, your life cannot succeed or survive outside of God, no matter where you go or what you have acquired. Just as fish is made for water, man is made for God. Often times, we have taken our lives to the wrong source, where we get entangled with traditions and all manner of intimidating information. God made you out of Himself so that you can reproduce after His kind. When He formed man from the dust and breathe into him, God was simply breathing man out of Himself into a physical body. God is Spirit, so the real you is not the physical body you see. The reason God gave you a body is so that you relate with and function in the physical world. You are spirit, invisible and untouchable, just like God. Don't allow anybody to assess you wrongly. Don't let them tag you 'a failure'. It is in man's power to assess what he sees on the outside, but it is your power to discover what you carry on your inside and operate with it.
He determines your functions: Even though I use a microphone, I am not the one who determined how it should function. The manufacturer determines its functions. And I cannot stretch it beyond its capacity. It was made by that company with all the abilities inside it to carry out its function. Also, man was produced in a spiritual factory. This is why till date; medical science cannot exhaustively explain how a child is formed in the womb. No one can tell how blood enters into the child for instance, or how the bones and eyes are formed, all from one egg that was fertilized by semen. Now, if a man who doesn't know the use of a microphone says it is not good or that it is useless, do you blame him?
God who made you says that you are good, why then do you bother about people who say you are not good? Why are you disturbed by circumstances that seek to make you look like a failure? When God created man, He said: "Be fruitful, and multiply, and replenish the earth, and subdue it: and have dominion…over every living thing that moveth upon the earth". (Genesis 1:28). So, when an observer comes and says, you can do nothing, it makes no difference! You can ignore him and carry on with your life, because you know that you are created with the ability to be fruitful, to multiply, replenish and have dominion on the earth. God did not create man to be useless; just roaming about on the earth doing nothing, rather He packaged man with detailed functionalities. "And God said, Let us make man in our image, after our likeness: and let them have dominion…over all the earth, and over every creeping thing that creepeth upon the earth… And God blessed them, and God said unto them, Be fruitful and multiply…" (Genesis 1:26, 28).
From this scripture, we can see that God created man to function in two major ways. That first one is to 'HAVE' and the second is to 'BE'. He said, "Let them have…" That means God made provision for you to have anything you want in life. He also went further to say, "Let them have dominion over all…" You are an unlimited creature. Nothing is permitted to stand on your way, because God has given you what it takes to be over all. Consider what Adam, the first man has a whole garden with four rivers, gold and other precious stones, every tree that is pleasant to the sight and good for food and every good thing you can think of (Genesis 2:8-17). Think about that! If your mentality can be opened to understand what God created you to have, then you will rise above everything that is trying to force emptiness upon your life now. The only thing that can stand on your way is what you permit. The second function of man is 'BE'. After He created them (male and female), God blessed them and said, "Be…" Have you ever asked yourself, "What do I even want to be in life?" God created man to 'be' according to His plan and purpose (Roman 8:28). John the beloved understood it better. That is why he said, "As He is in heaven, so are we here on earth" (I John 4:17). As Jesus is King in heaven so are we kings here on earth.
The first thing God did after He created man was to bless him. The word "Blessed" means empowered to prosper, progress and succeed. God placed all those potentials within man. He told Adam and Eve, "Be fruitful and multiply." Those are the functions of man; to be fruitful and to multiply, that is what he was built and engineered for. The assignment of a microphone is to help amplify the voice. Once it stops functioning that way, it is dropped. Many people are dropped in life because they are not functioning as they were created to. It is your function that determines your worth. For instance, I won't want to lose my microphone, as long as it is functioning and solving a problem for me.
But, once it stops functioning, anybody can take it and I won't be bothered because it has lost its value. Make your life count in your society by being fruitful and productive; solve problems rather than creating problems. Man was created to "have" and to "be" but it is what you become that determines what you have. If you want to have dominion, be fruitful. Be something and you will have things. When God calls a man to do anything, the power to succeed in that assignment is inside the calling. It is now left for him to discover it by taking steps in that direction. Your life has been determined before you came into this world; don't let the world determine what becomes of you. When circumstances say, "You shall not live", you should become determined, and not only to fulfill the number of your days here on earth but also to be what God created you to be.
Don't let what you met on the earth control your life. God created man to control his environment and not the environment to control him. Most men of great accomplishments are those who disagreed with what the circumstances they met in the world and through such reactions they were able to create a new beginning. If God says, "Be" it means you can "Be". Therefore, be successful! Be fruitful! Be progressive! God said you can be and He is eagerly waiting for you to be great. That means all you have ever done and all you will ever think of doing cannot be compared with what you can still do! Therefore, be successful! Be fruitful! Be progressive! With this, I believe you can now see the unlimited, inexhaustible nature of man. Nobody can cover your life or stop your destiny when you begin to fulfill your purpose in life.
Written By Dr. Lewis Akpogena
[email protected]

Disclaimer:

"The views/contents expressed in this article are the sole responsibility of the author(s) and do not necessarily reflect those of The Nigerian Voice. The Nigerian Voice will not be responsible or liable for any inaccurate or incorrect statements contained in this article."
Articles by thewillnigeria.com