Former Chinese Communist Party Official Gets 13 Years For Bribery: Xinhua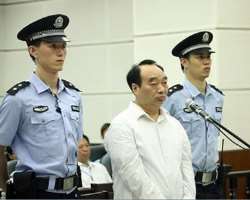 A former regional Communist Party official implicated in a sex scandal that has transfixed China was sentenced on Friday to 13 years in jail for bribery, government news agency Xinhua reported on Friday.
Lei Zhengfu, a portly, pop-eyed ex-secretary of a region in southwestern China's Chongqing, was caught on video having sex with an 18-year-old mistress, with the clip ricocheting around China's gossip-obsessed Internet when it surfaced last November.
The encounter turned out to be a sting operation by a property developer hoping to blackmail Lei, 55, into favorable commercial decisions, Chinese media reported.
Lei was fired, then charged last month with corruption, which carries a maximum penalty of death. At his sentencing he was also fined 300,000 yuan (about $48,000).
Also last month a Chongqing court charged six people with working together to blackmail government officials by recording videos of them having sex.
Chinese Communist Party officials are banned from having mistresses, and the video came to symbolize to many people the excesses and corruption of the ruling elite.
The government's swift pursuit of Lei's case indicates the party's growing attention to public anger over abuse of power and official impunity.
Sensitive to public outrage and warning that corruption threatens the Party's very survival, President Xi Jinping has pledged to crack down on corruption at all levels, though only a small number of senior officials have been fired or investigated for corruption since he came to power last year.
Ten government officials and heads of state-owned enterprises were fired in January for their involvement in sex videos, according to Xinhua.
REUTERS