OKWUTE PRESENTS 65 Million Naira to Chikason Group and Agbo Edo traders of Nnewi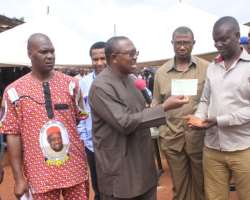 Deepening the collaboration with organisations, industrialists and men of goodwill for the ultimate benefit of the State, Gov. Peter Obi has presented a cheque 35 million Naira to Agbo-Edo Motor Spare Parts Dealers Association, Nnewi for construction of the major access road across the market. Governor Obi presented the cheque during an inspection visit to the market.
The Governor said the gesture was in fulfilment of his earlier promise to the traders. He commended them for embarking on the construction of drainage system on the road and for installing transformer to boost power supply in the market. He enjoined them to work with the Nnewi North Local Government Council to achieve the desired goals, assuring them that the State Government will continue to give them necessary support and encouragement.
Governor Obi restated the resolve of his administration to use the State resources to uplift the standard of living of the people. He noted that the President Jonathan administration has impacted positively on the South-East as it has embarked on projects hitherto neglected by previous administrations.
In a Similar development, Gov. Obi also presented a cheque of 30 million Naira to the Chikason Group, Nnewi for the reconstruction of Chikason road. Governor Peter Obi said the gesture was part of his promise to always support and encourage industrialists in the State through provision of key infrastructural facilities such as access road to their factories in order to grow and expand their businesses to create more employment opportunities.
A representative of the company, Mr. Emma Enemuo, thanked the Governor for fulfilling his promise to the company which he described as a source of motivation. Mr. Enemuo commended the Governor for constructing high security network and quality roads crisscrossing the entire State.
Meanwhile Governor Obi who also visited Christ the King College said the State Government will encourage building of eco kitchens across the State. Governor Obi was speaking while presenting a cheque of three million Naira to Christ the King College, Onitsha for the completion of its Eco kitchen initiated by the Old Boys of the school based in the USA. He explained that the gesture was infulfilment of his promise to match any organisation that decides to build anything in any part of Anambra Sate with equal funds
Responding, the Principal of the school, Rev. Fr. Charles Okwumuo, thanked the Governor for his love and commitment to the uplift of the school.
Caption for the picture
Gov. Peter Obi (2nd left), presenting a cheque of 35 Million Naira to the leader of Agbo Edo Market, Nnewi, Mr. Gabriel Chibueze(2nd right), for the reconstruction of roads within the market. With them are the Deputy Speaker, Prince Chukwudi Orizu (1st left) and the Commissioner for Workes, Callistus Ilozumba (2nd right) at the Market