House Directs CBN To Implement Cashless Banking In Phases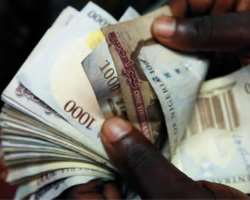 ABUJA, June 27, (THEWILL) – The House of Representatives, Thursday, directed the Central Bank of Nigeria (CBN) to implement its on going cashless policy in stages, moving from cash-based to cash-less and then cashless.
Similarly, the House directed the apex bank to remove charges and limits on daily cumulative withdrawal and deposit to encourage small businesses as has been done for Ministries, Department and Agencies (MDAs)
According to the lawmakers, this has become imperative because the required technical and financial infrastructure needed to drive the policy is not yet in place in the country.
The resolution followed a motion sponsored by Hon. Yakubu Dogara (PDP), titled "Need for Central Bank of Nigeria (CBN) to implement the cashless policy in phases."
Leading debate on the motion, Dogara argued that the cashless policy as being practiced in Nigeria has possible implication of cost saving in the financial sector but does not necessarily imply real sector growth and does not have human development as a focus of an economic development.
He expressed concern that the financial infrastructure in the country is grossly inadequate to carry the demands of a cashless society.
According to him, the issue is further compounded by the fact that the CBN has not achieved the needed 40 percent expansion of Automated Teller Machines (ATMs), Point of Sale, mobile banking and other medium even in the urban areas.
Chairman of the House Services Committee said he was "worried about the absence of the required technological investment to prevent operational disruptions and the manpower development necessary for a cashless society on one hand and the collaborative relationship between CBN and the legislative organs on bills such as the amendment of criminal and penal code in order to provide for offences and penalties relating to computer misuse and cybercrime "
Also supporting the motion, Chairman of the Committee on Rules and Business, Hon. Albert Sam-Tsokwa (PDP, Taraba), appealed to the CBN to exempt rural states such as Taraba from the policy, arguing that only four Local Government Areas are connected to the national grid.
In her submission, Hon. Aisha Dahiru (PDP, Adamawa), said presently, Nigeria lacks the capacity to fight internet fraud, which has become so rampant.
She noted that thousands of Nigerians have lost huge sums of money through ATM and internet related crimes, adding that if the cashless practice is introduced without proper planning, many Nigerians will be at the mercy of fraudsters.