Mark Advocates Death Penalty For Oil Thieves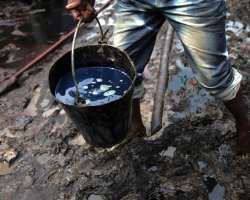 ABUJA, June 25, (THEWILL) – The Senate President, David Mark, has advocated death penalty for oil thieves in the country.
He also stated the need to revisit the Terrorism Prevention Act such that it will prescribe stiffer penalties for terrorists in the country.
Mark made the call on Tuesday at the Senate while delivering his welcome address at the resumption of the third session of the seventh Senate.
Mark,who said Nigeria was having challenges particularly in the areas of security and economy, declared that progress was being made in the Borno, Yobe and Adamawa States where state of emergency was declared recently declared by President Goodluck Jonathan.
"Do we need to revisit the Terrorism Prevention Act to make and prescribe stiffer punishment for offenders? In all our parliamentary actions the welfare of the people must be of paramount importance," the Senate President stressed.
Mark directed relevant Senate Committees to ensure legislative oversight of the emergency rule and brief the Senate accordingly.
"As we make progress and win the hearts and minds of people, government must intensify the provision of social amenities in those areas where normalcy has returned. We must do everything possible to address squarely the social and economic needs of our people with determination, sincerity, honesty and transparency.
"I also expect our relevant communities over-sighting the state of emergency to monitor the situation closely and brief us accordingly. I may sound like a broken record on this but I strongly believe that oversight is our most important legislative function. It is only by effectively playing this role that the legislature can enthrone
accountability, due process and transparency in the conduct of the business of government," he said.
On the issue of oil theft in the country Mark said: "In the past I had occasion to comment on the escalating issue of oil theft. It does not need a genius to know that this would have a devastating effect on the economy if not checked. We must therefore address it squarely. I still maintain my earlier stance that oil theft should attract capital punishment."